Alan Hirmiz
Real Estate Agent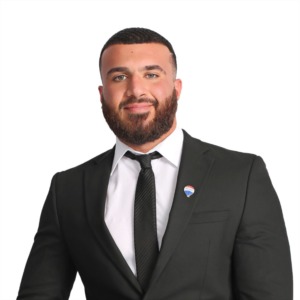 Alan Hirmiz's goal is to assist his clients to make the best decision possible whether buying, selling, or investing in real estate. Alan is dedicated to putting his clients' needs first and working hard to make their ambitions a reality.
Alan has extensive knowledge of home construction as a culmination of his electrical engineering education at St. Clair College and years of construction and demolition experience. This affords him a valuable skill set for advising his clients on the advantages and drawbacks of a property, pointing out issues, and recommending on what form of renovation might enhance properties for personal use or resale.
After 15 years, Alan continues to live in the same community. He feels completely at ease there, enjoying the sense of community between his neighbors. In his spare time, he enjoys working out and sweating it out in the boxing ring. Most significantly, Alan is an amazing big brother to his younger sister, actively taking the time to build memories as siblings should.
Alan is trustworthy, honest, and encouraging as a real estate agent. To him respect is key, and going above and beyond to deliver on his client's needs. He is an enthusiastic, motivated person who is always willing to lend a helping hand.  
Despite overcoming several challenges throughout his life, he has never let them hold him back. It has only provided the fuel to motivate him to work harder.