Aneri Shah
Office Manager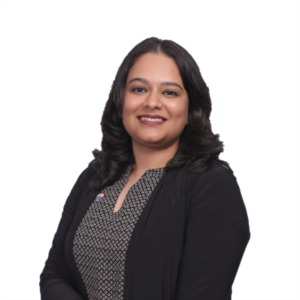 Aneri Shah has a Bachelor's Degree in Commerce, a Master's Degree in Human Resource Management, and a Postgraduate Degree in International Business Management. With a plethora of expertise at her disposal, it was only natural for Aneri to join us as our Office Manager.
Aneri is responsible for overall coordination of a broad range of services/resources that allow our office to operate efficiently. She assists in the development and implementation of office policies and procedures, manages and oversees the administration of HR policies, and the programs and practices within the brokerage. She really is our "Go to" person.
Working at Team Goran is unlike any other office, according to Aneri, it is never boring and there is never a dull moment. As someone who has previously worked in managerial positions, she found working at our office to be exciting since, aside from the normal work/duties, Team Goran believes in the importance of team culture, which is why there are frequent events, games, and get-togethers that bring the fun.
Aneri enjoys attending the spiritual festivals held in her community on a monthly basis, which helps her to stay connected to her Indian culture as well as to the people in her community. She looks forward to these gatherings because it allows her to reminisce about happy childhood memories while also giving her the opportunity to dress in beautiful traditional attire. She also finds it the perfect opportunity to pass on to her son the religious rites and the sense of belonging that comes with being a part of a community.
Community means more to Aneri than the joyous gatherings, it means giving back and providing for her community in gratitude. She pays it forward by donating each year to the Jain Community to help with medical treatments in India. Her family further extends their contributions of food donations, clothes and more medicine to different charities throughout India.
Aneri describes herself as adventurous, ambitious and emotional, though we believe she missed giving and being kind-hearted.