Deepan Dhingra
Real Estate Agent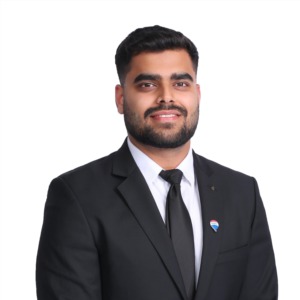 Deepan holds a Master of Engineering degree in Electrical and Computer Engineering from the University of Windsor. Now, with a vast knowledge of the area, real estate is an exciting progression from Engineering to Real Estate. In his Engineer mindset, he is always assessing situations and looking to come up with alternative solutions to common problems.
Deepan realized that hardworking agents have incredible opportunities when they have the backing of a successful Brokerage like RE/MAX CARE Realty. With Team Goran's Training Program, he has immersed himself in all of the information and data available to him. He eagerly incorporates new technology and tools into his work in order to make every process easier for his clients.
Deepan appreciates how working in real estate has allowed him to meet new people, experience new situations, and get a deeper understanding of what is vital to each person when deciding on a house purchase or sale. It has also given him the opportunity to make a difference in the lives of others by supporting them in finding the perfect home, enabling him to be a part of a memorable moment.
Deepan finds the charm of living in a local community is always knowing the perfect places to shop, the best restaurants around, and all the different activities to do over the weekend. When Deepan isn't playing cricket, squash, or cooking for others, he is driving around the city, seeing beautiful homes and exploring different neighbourhoods, and figuring out what that home or neighbourhood has to offer.  
Deepan learned to be proactive, loyal, trustworthy, and responsible while supporting his father in managing their family businesses in India. It enabled him to hone his customer service and sales abilities, as well as improve his financial and communication skills. 
The nicest thing about him is that he understands other people's feelings and circumstances extremely well since he imagines himself in the same position before making any decisions. Providing services to others is much more than making decisions for him since it is their trust that drives him to do his best and go above and beyond to achieve the best possible deal for his clients.