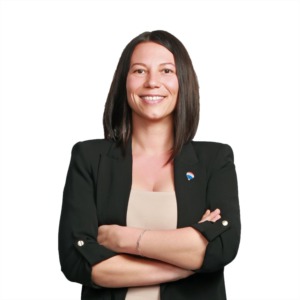 Eleonora enjoys home remodeling series such as Love It Or List It and Property Brothers because of the interior design elements in each. She aims to apply her passion and eye for beautiful interiors to the industry, assisting her clients in making the most of their listing and creating a buyer frenzy.
Eleonora fell in love with Real Estate during her first house purchasing experience, but with three infants under the age of three at home, she had to put her ambition of becoming a REALTOR on hold. Though she recognized that as a Realtor, she would want her clients to enjoy the experience of searching for properties by making it as enjoyable and seamless as possible.
Before dedicating 10 years to focusing on raising her children, Eleonora spent time helping people feel their most beautiful self as a hairdresser. She felt a big responsibility and privilege in knowing the trust her clients put in her- driving her excellence in service to ensure when they walked out of her chair with smiles and completely satisfied.
Eleonora made the transition from stylist to negotiator, citing how her experience as a hairdresser taught her valuable communication skills such as listening to her clients' wants and needs as well as their personal life stories. She intends to build a long and successful career by guaranteeing her clients' success and satisfaction, believing that properly navigating the real estate process needs a great deal of empathy, patience, and genuine concern.
In an ideal world, Eleonora would find her dream home located in the county. Her favourite places include our waterfronts, Ganatchio Trail, and Little Italy at night. She enjoys hiking with her family and all summertime activities like camping and day trips to the beach. Eleonora possesses passionate, proactive and patient qualities that will make her the preferred REALTOR for many.