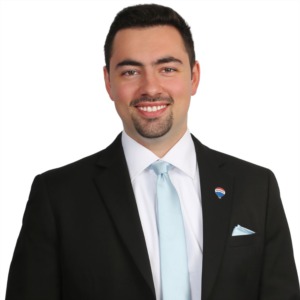 Keegan Calic offers a wealth of experience and dedication to making real estate journeys a success. His educational background includes Business Marketing at St. Clair College, and completing the Real Estate program at Humber College. Keegan's passion for the real estate business lies in connecting with diverse individuals, learning about their unique stories, and witnessing the joy on their faces when they find their dream home.
Furthermore, his previous experience working in a hospital environment has equipped him with empathy and adaptability, essential qualities in understanding clients' needs and emotions during real estate transactions. Being a part of the Windsor community since 2003, Keegan appreciates the safety, accessibility, and abundance of amenities this area offers. His journey into real estate began with a high school co-op placement at Team Goran, igniting his love for the industry. He's committed to helping clients navigate the home buying and selling process.
Outside of real estate, Keegan is an active member of the Erie Ramblers Motorcycle Club and participates in WOSCA autocross events. His hobbies include dirt bike racing, car racing, car maintenance, quality family time, hockey, and hitting the gym. He even shares his life with a lovable Yorkie/Maltese mix named Fonzi. Keegan is characterized by three words: Charismatic, Determined, Compassionate.
Keegan is motivated to provide his clients with the best service possible. He understands that buying and selling homes are significant financial decisions and is determined to ensure a smooth and stress-free transaction for his clients. Keegan goes the extra mile to match clients with their ideal homes and prides himself on delivering exceptional service. Trust Keegan to be your dedicated real estate advocate.