Mackay O'Connor
Real Estate Agent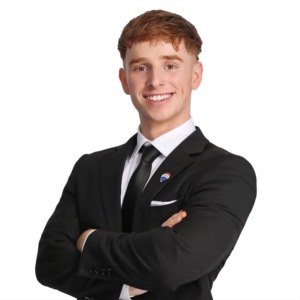 Building long-term connections with his clientele is one of Mackay's favorite aspects of the real estate profession. He is an outgoing person who likes spending time with his clients and sharing conversation and experiences with them.
Mackay's prior expertise has tremendously aided his real estate career. Mackay completed Integrative Biology with a Chemistry Minor. As a Pre-med student, he gained a strong work ethic, time management abilities, and advanced math skills.
Through volunteering, he learned a lot about his community, and a strong desire to give back. Mackay cares a lot about his neighborhood and has fond memories of his childhood there. He chose to work in real estate because he thinks it's a good fit for his skills and personality. He also wants to be a trusted voice in his community and be the person people turn to for help.
Mackay gives back to the community through community service and frequently volunteers in his spare time. He became active with Harmony in Action, an organization that assists individuals with impairments. In addition, he completed Emergency First Responder training at the University of Windsor for a volunteer organization. 
Mackay enjoys going to the gym, cooking, and spending time with his dog, Pickle.
Mackay works very hard, is good at negotiating, and is a great listener. He is always dependable and will help his clients through stressful situations. As time goes on, he hopes to build meaningful relationships with his clients.