Nayan Wright
Real Estate Agent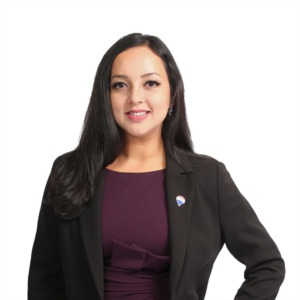 Nayan Wright has joined Team Goran, with a background that includes a Master's degree in Design, Nayan's path reflects her passion for growth and innovation.
Nayan's academic foundation was laid at the distinguished National Institute of Design in India, where she earned her Master's degree in Design. This background has endowed her with a distinctive creative perspective that she effortlessly integrates into her approach to real estate. Blending design principles with the intricacies of property transactions, Nayan promises fresh ideas and novel solutions that enrich the client experience.
Growing up in a military family has instilled in Nayan the ability to adapt and connect with individuals from diverse backgrounds. This skill has become a cornerstone of her professional approach, allowing her to truly empathize with clients and provide tailor-made solutions. Thriving in dynamic environments, Nayan finds fulfillment in the ever-changing nature of her interactions.
Nayan's outstanding multitasking and organizational skills consistently surpass expectations, making her a prized asset for clients. With unwavering determination and self-belief, she confronts challenges with a winning attitude. Core to her mission are nurturing lasting relationships and delivering excellence.
Beyond her professional endeavors, Nayan's four-legged companion, Ozzy, occupies a special place in her heart. This beloved dog serves as a reminder of the loyalty and companionship that are integral to both personal and professional relationships. It is within this supportive atmosphere that she aspires to cultivate her real estate business. Her love for design, music, and cooking infuses her interactions with a distinct creative flair and a personalized touch that clients are sure to appreciate.
Embarking on a new journey with Team Goran, Nayan will infuse design flair, cultural insights, and an entrepreneurial spirit into every interaction. For those seeking a real estate partner known for creativity, adaptability, and genuine commitment to success, Nayan Wright is the standout choice.