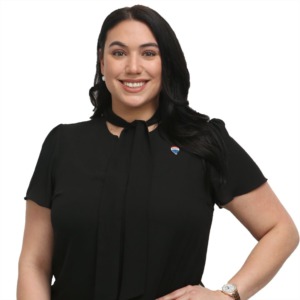 Nikki Najm grew up near Leamington's Point Pelee National Park before moving to Windsor at the age of seven, where she has lived ever since.
Nikki considers Windsor's combination of nature and industry to be one of its best features. She enjoys being able to walk her golden retriever through one of our national parks, then walking along our beautiful riverfront, then out for a night on the town enjoying the local restaurants and bars. 
When Nikki is not at work, she can be found lost in a good book, watching the Food Network—sometimes cooking alongside—going for a swim and kayaking, or simply hanging out with family and friends. 
Nikki worked in the restaurant sector for many years, always striving to provide the greatest customer service experience possible. She also spent years working at Chrysler prior to shift eliminations, so she understands how a changing economy may impact the direction of your life no matter how hard you work.
This change ultimately encouraged Nikki to explore a passion for real estate, choosing to join Team Goran to embark on a new and fulfilling career in the industry. 
​​Customer service has helped Nikki lay a solid foundation for her real estate career. Her acquired problem-solving abilities, active listening skills, and numerous hours of customer-facing service experience will undoubtedly make her an agent with whom anyone would be delighted to work with. 
Nikki will always go the extra mile for her clients, believing the most critical skills for a successful real estate agent are attention to detail, negotiation, and communication skills. Her Goal is to bring all her best attributes to helping people through one of life's milestones.
Helping others is Nikki's favourite aspect of the real estate profession. Nikki's persistence, reliability, honesty, as well as her added skill of being fluent in French, are great attributes that will surely make her a top producing agent.