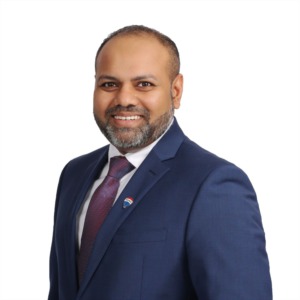 Rafiqul Sarder was born and raised in Bangladesh and speaks Bengali, Hindi, and Urdu fluently. He is involved with the Bengali and Muslim communities in Windsor. Rafiqul is known for being a foodie and enjoys trying different types of restaurants, going for long drives, and exploring new places. 
Rafiqul has spent the previous 23 years bouncing between Windsor and Toronto, but he has finally settled with his family in Windsor. Rafiqul's favourite aspect of Windsor is how individuals come together as a community to assist one another in times of need no matter the circumstances.
He has over 18 years of customer service experience, having worked for a wide range of businesses, and is also an investor himself with an investment portfolio in Windsor.
Rafiqul was interested in technology and finished school with an advanced diploma in Electronics Engineering Technology. Today as a real estate agent, Rafiqul finds more satisfaction and finds he leaves a bigger impact helping clients find their homes and playing a part in major times in their lives. 
Rafiqul's clients know him as a motivated, hardworking, and trustworthy individual who always has their best interests at heart. He understands that buying or selling a home can be one of the biggest decisions and investments in someone's life, and he takes pride in being a part of that process.