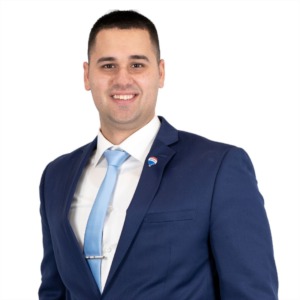 Vanja Toroman, a graduate of the University of Windsor with a bachelor's in psychology, was born in Serbia where he grew up watching his father play professional basketball ultimately following in his footsteps. 
Being an athlete taught him the importance of making great connections, which he believes is the cornerstone for forming a strong team. Vanja adopts this approach to real estate, engaging with his clients on a personal level in order to create trusted connections.
Vanja's sports nature frequently shines through in his personality and how it has effortlessly transitioned to real estate. Considering it vital to develop a strong partnership, he begins to work with his clients right from the start of their journey to learn about how the process will impact their life and their family.
Vanja spent 8 years working as a professional painter alongside his stepfather, sharpening his knowledge of how colour can effectively reflect a home's greatest features, and how to deceive the eye into making small spaces appear larger and brighter.
During this period, he also established a large network of skilled craftsmen while renovating his family-owned rentals, and becoming acquainted with the tenant and landlord act. These combined skills equip his clients with a wealth of information that can aid them in their own real estate endeavours.
Vanja has a personality that draws you to him as if you have known him for years. He engages with each client with energy and enthusiasm, seeking to provide a one-of-a-kind experience whether they are looking for their dream home or are preparing to sell their current one.
With Vanja as your agent, you will encounter positivity and a seamless experience during the ups and downs of the real estate process. His years of nail biting games has enabled him with the ability to stay cool under pressure.
Dedication, commitment, competition, and enthusiasm are characteristics shared by top athletes. It's a long road from the start of a season to the championship game, and it requires drive, focus, and determination to stand in the winner's circle. These are all attributes that Vanja embodies, and attributes that are sure to make him a top producer.