Wyse M. Jamali
Real Estate Agent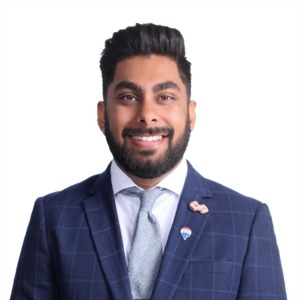 Wyse M. Jamali has made the commitment to join Team Goran, the #1 Broker Owned RE/MAX, to be an ongoing informative resource to his clients by taking advantage of the top-quality training and mentorship program and to provide first-rate customer service.
Wyse is a multilingual real estate agent who is excited to serve the Windsor community where he was born and raised. He speaks Hindi, Punjabi, and Urdu. Wyse appreciates the close-knit community feel that comes from everyone being there for each other, always lending a helping hand when needed!
Wyse is also very involved in his community - attending weekly Friday prayers, community dinners, and fundraisers at the Rose City Islamic Centre.
Wyse made the decision to attend Medical School, and now holds a Doctor of Medicine. After the time and dedication required to become an MD, one can only ask… why real estate? Wyse worked in sales for years while attending school, always with the intention of one day owning his own business. Real estate was the perfect fit for him since he had always had a passion for it, and a natural calling to serve people. Now he's a doctor that actually makes house calls!
Both real estate agents and doctors have at least one thing in common- they both are obligated to do no harm to their clients. Yes it may sound bizarre, but your real estate agent plays the role of a doctor. When deciding to buy a house with years of hard earned savings, expert opinion is generally needed. 
Wyse values each client as a unique individual tailoring services to suit their needs and keeping them informed, step by step, to ensure a smooth and successful experience.  He leverages his medical background to better serve his clients, remembering commitment, professionalism, a strong work ethic and morals.
Wyse is a motivated, hard working, and understanding agent who enjoys going for walks to stop and connect with his neighbours, and goes out of his way to help anyone with whatever and however they may need him. He also loves to stay active playing spikeball, running, kickboxing, swimming, and even does hobbies such as cooking, barbecuing, and woodworking.  His biggest passion is for woodworking, spending time building pergolas, decks, and all kinds of home renovations. 
Wyse is truly a great asset to Team Goran with his skills and knowledge he has the ability to take the temperature of the market, and yours!