Buying a New Construction Home? Pros & Cons to Consider First
Posted by Goran Todorovic on Thursday, March 30, 2023 at 9:30 AM
By Goran Todorovic / March 30, 2023
Comment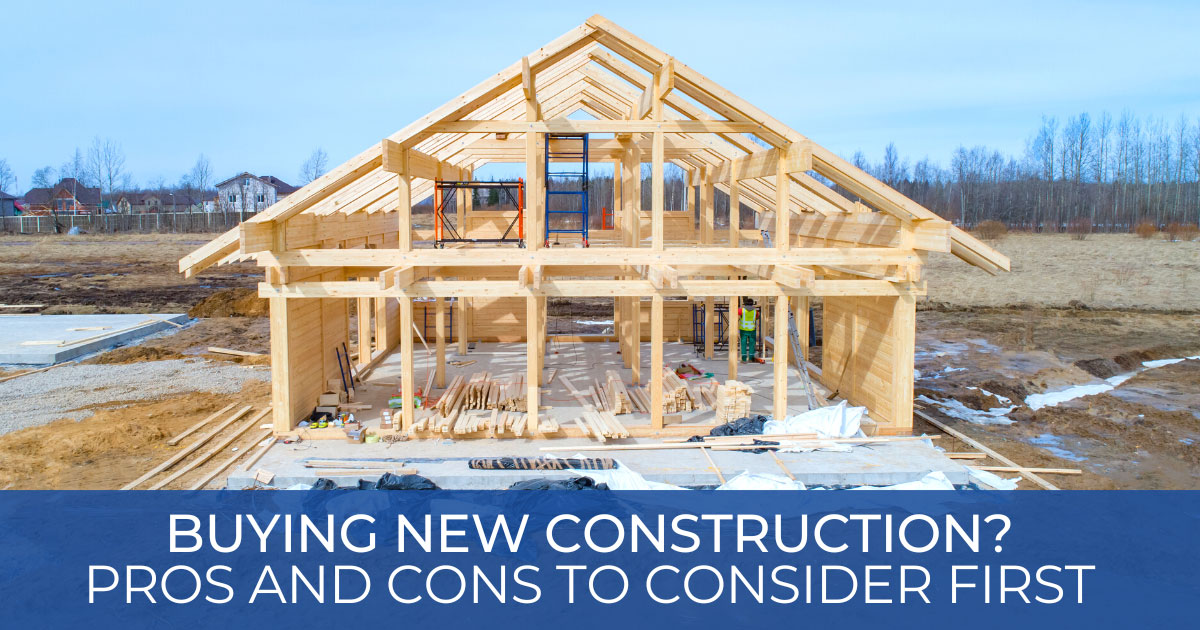 Many homebuyers dream of being the first person to step into a home that has never been previously occupied. To make that vision a reality, buyers will need to consider investing in a new construction home—but it's a significant investment that has a few major differences from buying a resale home. Keep reading to discover what you should know when buying a new construction home, and we'll cover the perks of buying a brand new home and offer a few key tips to get home shoppers ready for the experience.
The Benefits of New Construction Home Buying
There are plenty of perks that come along with buying a new construction home or customizing a model home, and the sky is often the limit. The typical concerns of buyers moving into a home with previous occupants are vast, and these can be avoided with a newly built house. Furthermore, customization is an option that can be included in the total purchase price and be covered with mortgage payments.
New Construction Homes are Brand New
New construction homebuyers can be highly confident in the quality of their new home and the systems in it, knowing they will be the very first people to live there. Owners of resale homes can have issues during their occupancy related to previous owners attempting home improvement projects such as plumbing work, flooring installations, room additions, and patching walls but overestimating their ability to handle the tasks, or the home simply degrading over time. Worse is the possibility of un-permitted work that leads to a number of problems down the line. These kinds of issues are why it's important to always get a home inspection.
Speaking of home inspections, newly built homes are guaranteed to be aligned with current building codes. New homeowners don't have to worry about lead paint, asbestos, or other building materials that have been banned since the home was built. This means that, while a standard home inspection is still a good idea to check that the work was done correctly the first time, buyers don't have to worry about having additional, specialized tests and inspections performed, along with potential remediation, which can be quite expensive.
Maintenance for new construction homes is also low, equating to new homeowners having the enviable ability to move in and enjoy their new living environment. Essentially, they buy a turnkey home. New homes also come with a warranty that covers any issues, but even if they happen, at least they won't be due to deferred maintenance. This means less need for costly repairs or necessary upgrades quickly after moving in, and the warranties will keep buyers covered for years to come. After that, the best new build home insurance will suit homebuyers well. Consider types of homeowners insurance to ensure optimal coverage for your new home.
Appliances in newly built homes are usually top-of-the-line, modern, smart-enabled appliances that are more cost-efficient and energy-efficient than older models. Buying a new home means that the owner can immediately enjoy the money-saving benefits without having to go through the hassle of replacing old windows, HVAC systems, or other installations. New plumbing, freshly painted walls free of lead, and zero chance of asbestos equate to a win-win for buyers and their guests.
Custom-Built Homes Can Be Personalized
A fully custom-built home gives buyers greater control over every aspect of the systems, decor, and finishes in their home. Ground-up builds can be designed according to buyer specs, and semi-custom builds like model homes in master-planned communities can be personalized with buyers' desired touches.
Buyers can have rooms added, special tiles and flooring put in, request custom cabinets, and much more when working with custom builders. These requests often involve build-ins or involve the kitchen or bathrooms where many buyers want to have superior luxury concerning amenities and features. Buyers need to discuss any desired upgrades with their home builder, designers, and lender to make sure everything is in order.
Even with semi-custom builds, homebuyers get far more customization options than with resale homes. Developers typically aim to sell homes before they are built to ensure they net enough profit. As a result, people who are willing to commit to a home purchase ahead of time often have the ability to choose their preferred layouts, finishes, designs, and numerous other customizable features.
New Homes Can Be More Cost-Effective Than Pre-Owned Homes
While new construction homes may have a higher initial price tag than a similar home that's pre-owned, they can save you money in other ways. When touring homes for sale, buyers typically come up with a list of things they want to change—the roof needs replacing in the next few years, the current carpet triggers your dust allergies and needs to be swapped out for laminate or hardwood, the kitchen needs a bigger sink and new countertops while you're at it.
When you add up the cost of all these updates on top of the cost of the house itself, it's going to be a significant increase. In addition, it can be stressful and time-consuming to have to shop around for contractors, arrange dates, and set aside time to be home while the installations are being performed. If you want to avoid the additional costs and stress of home improvements, a new construction home may be the right choice for you.
What to Know Before Buying New Construction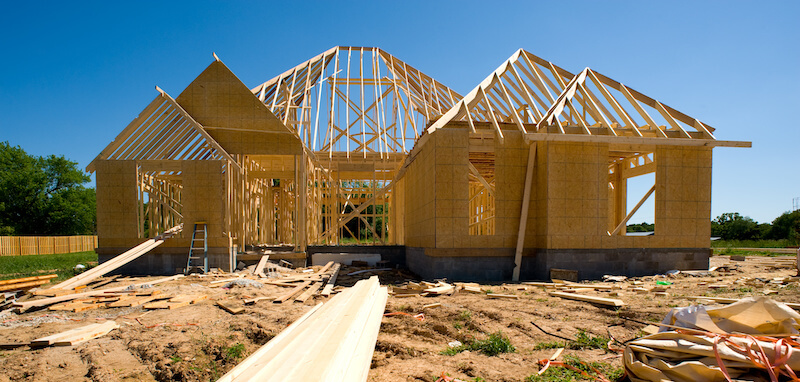 New construction homes take time to build, and some delays are inevitable in Canada's cooler climate, especially in winter. Contractors and builders can offer a variable timeline, but things can change quickly depending on a number of factors. Even move-in ready homes with a few customizations can require time, as those home shoppers view in person or see in brochures may not fully represent what they will receive once their home is ready to move in. Here are some factors to be aware of before taking on the process of buying a new construction home.
Building a Home Takes Time
Wherever a homebuyer chooses to buy, building a home from scratch and even making a few upgrades to a pre-built home can take a good amount of time. Bad weather, obtaining permits, shortages in materials or skilled labour, and other factors can result in unexpected delays.
Should a heavy storm blow through the region and make roads impassable, getting supplies through the supply chain could require additional days or weeks. If any building permits are delayed due to misfiled paperwork or conflicts with approval occur, this could take weeks to resolve. In certain economic crises, materials may be in short supply, which may require a change in plans or buyers making concessions to wait for them to become available. In some cases, buyers may end up paying more for supplies due to such shortages.
Buyers should be prepared to wait anywhere between 6–10 months for their new home when things go perfectly, according to the Canadian Home Builders' Association. Of course, depending on the cause of the delay, it could realistically take up to two years for a larger or highly customized new construction home to reach the point of completion. Those planning to build a fully customized home should factor in additional time for meeting with builders, architects, and designers and obtaining permits and necessary financing, in addition to considering potential delays.
One less obvious drawback of new construction is that buyers can't always choose their move-in date or timeframe because they are tied to the builder's timeline.
Choosing the Right Builder is Vital
It's also important for buyers to understand builders are not a one-size-fits-all industry. Most are highly professional, but others are inexperienced or have a poor track record. Individuals considering new construction should always research builders and developers before investing. Even experienced developers can be an incorrect match for certain homeowners' preferences. Buyers should research and meet with several developers before making a final decision—to help you out, we've put together a guide for how to choose your new home builder.
Model Homes Have Higher Prices Than the Advertised Homes
Model homes are just that—models of the ideal home that many buyers are in the market for. This means that show homes will likely have all of the add-on upgrades, but the price advertised for the potential buyer's home is just the base level. This makes it crucial to talk with the showing agent and the home builder to find out exactly what is and what is not included in the advertised price for homes in the development area. Then be sure to get estimates about what the desired upgrades and customizations will cost to get a final price.
The building process can also result in higher costs than expected at the beginning of the project, such as if the price of materials increases partway through. It's a good idea to check the building contract for something known as the builder's escalation clause and the exact terms thereof.
Consider Negotiating Pricing From a Different Angle
New construction homes are generally more costly than resale homes, so many buyers are eager to get the best deal possible. However, builders and the community's representing agents don't generally make concessions concerning lowering the price of the home itself. They know that if they offer one buyer a discount, the next buyer will want the same, and they want to protect the entire development's property values for the best profit.
However, savvy buyers can approach bargaining with the selling agents from a different angle that might ultimately prove successful. Because they want buyers to be satisfied and recommend their homes to others, many new home developments are willing to negotiate with buyers for discounts on upgrades to the home. This allows for home values in the neighbourhood to remain consistent while giving the clients the deal they're after on the end result.
Buy New and Get the Dream Home You Want and Deserve
Buyers want to spend their money wisely while getting the home they've always wanted. When approached with a bit of foresight and knowledge, you can design and decorate a new construction home to become the comfortable respite you've always envisioned!