Benefits of Living in a Golf Course Community: Golf Every Day, Great Amenities & Lasting Home Values
Posted by Goran Todorovic on Tuesday, October 11, 2022 at 8:10 AM
By Goran Todorovic / October 11, 2022
Comment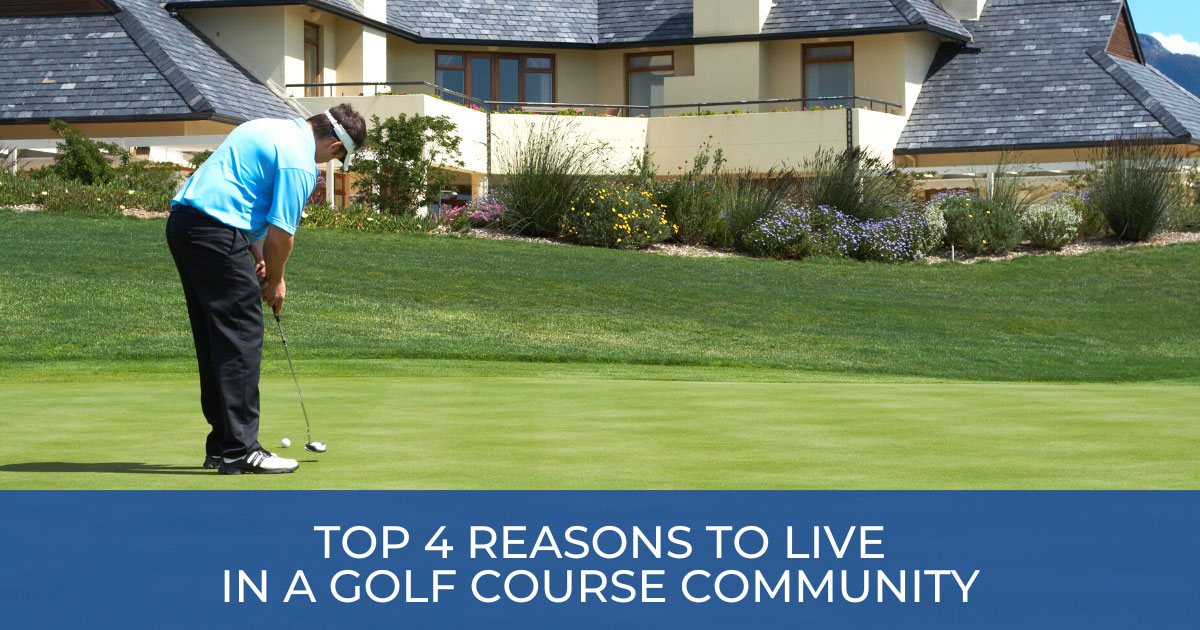 Living in a golf course community is a dream for those who fall asleep golf on their minds. Envision waking up and finding that dream to be a reality when you live in a golf course home. Just outside the front door, homes in a golf community can have all of the prime views and pristine fairways an avid golfer could want.
Beyond the game itself, there are a number of benefits of living in a golf course community. A quiet lifestyle, luxe amenities, and secure property values await anyone who invests in golf course homes for sale. Are you ready to take a swing?
Enjoy the Health Benefits of Golfing Every Day
Perhaps the most obvious benefit of living on a golf course is the ability to play every day. Golf course community lifestyles allow you to improve your game with daily practice. Additionally, you can enjoy the health benefits of golf.
Playing golf regularly can improve your mental health. The game can help reduce stress and improve your focus and concentration. Additionally, time spent in the sunlight is essential for improving mood, boosting your immune system, and regulating vitamin D levels.
Jumpstart an active lifestyle by skipping the golf cart and walking the course. Walking 18 holes can burn up to 2,000 calories. That's about the same as running six miles! When the course is located just outside your back door, there's less pressure to rush through the game. When you live on a golf course, feel free to take your time and focus on the fitness aspects of playing.
Higher Property Values
The demand for real estate in golf communities is undoubtedly on the rise, and buyers are prepared to pay top prices for these homes. While the initial investment may be higher than the average single-family structure, resale values in established locations are unsurpassable.
There's almost always demand for homes located in and around a country club. Some research shows that just having a view of the course can boost property values between 15-30 percent. So, buyers can only imagine what a property directly on the course might bring.
Because golf course homes tend to rise in value more than other properties, they can be attractive as investment opportunities. However, investors should keep in mind cap limitations on renter occupancies in the neighbourhood, as most community associations have limits set in place. In certain neighbourhoods, it is essential to note any age restrictions set by the association.
Extra Amenities to Enjoy
Golf is only the beginning of what living in a golf club community has to offer, as most of these neighbourhoods have an abundance of additional shared and common amenities. While golfing is the highlight of much of the action, these master-planned communities have plenty of planned amenities that are not centred around the sport.
Residents often have access to perks like miles of walking trails and bike paths where they can explore nature. Most golf course communities have a remarkable clubhouse that typically hosts private engagements as well as neighbourhood gatherings that promote new friendships among owners. Other amenities common in these communities include:
Tennis Courts
Basketball & Pickleball Courts
Swimming Pools & Spas
Fitness Centres
Social Events
But, of course, the highlight is golf, and owners are typically granted the privilege of having the first shot at tee times. This makes playing a round for practice or taking on a competitor a possibility just about any time one is ready to take a swing at things. In addition to community amenities, you can also elevate your property with the best amenities for golf course homes.
Quality Landscaping and Design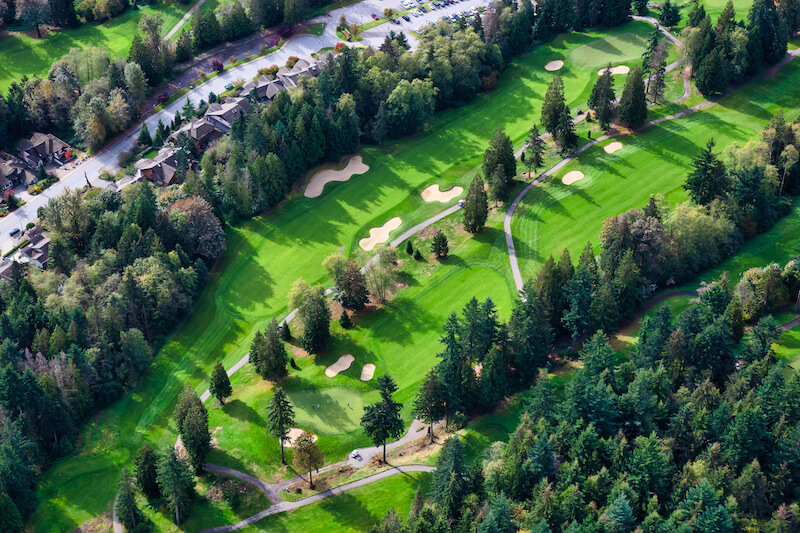 In a golf course community, there is a strong focus on keeping up the landscaping on both the greens and the community as a whole. Thanks to dues from the neighbourhood association and guests, these communities are pristinely manicured and maintained.
Homes are likely to be situated around focal points that highlight the best views of the course. From sweeping views along fairways to quiet scenes at the putting grounds, there's no mistaking the effort that goes into the design of the entire neighbourhood.
As an added bonus, there is likely to be a good bit of wildlife that favours golf courses. Sand traps, trees, and water hazards seem to invite nature to make a stop for a respite from time to time. It's just another reason to make the most of the views from a golf course at home!
A Private, Quiet Lifestyle
The best golf course communities are generally quieter than traditional neighbourhoods—that's what the "golf clap" was made for. Even when the action is thrilling on the course during a tournament, homeowners are unlikely to be disturbed when living course-side.
These communities tend to be sprawling, with each home having a good bit of space between them. With a neighbourhood association taking on the oversight of the course, owners will only need to tend to their personal lawn—and in some communities, the association will take care of that too. Regulations for landscaping are typically enforced stringently in golf course communities, so it's unlikely that residents will be tested by a neighbour's overgrown lawn.
Live the Golf-Enthusiast Lifestyle All Year Long
Discover what life is like in a golf community that offers some breathtaking views, vast amenities, and promotes a tight-knit community. Wake up inspired each day knowing that prime tee times could be yours whenever you choose by investing in a home in one of these remarkable communities.