6 Best Lakes Near Windsor: Explore Lake St. Clair & Lake Erie
Posted by Goran Todorovic on Tuesday, March 14, 2023 at 11:20:17 AM
By Goran Todorovic / March 14, 2023
Comment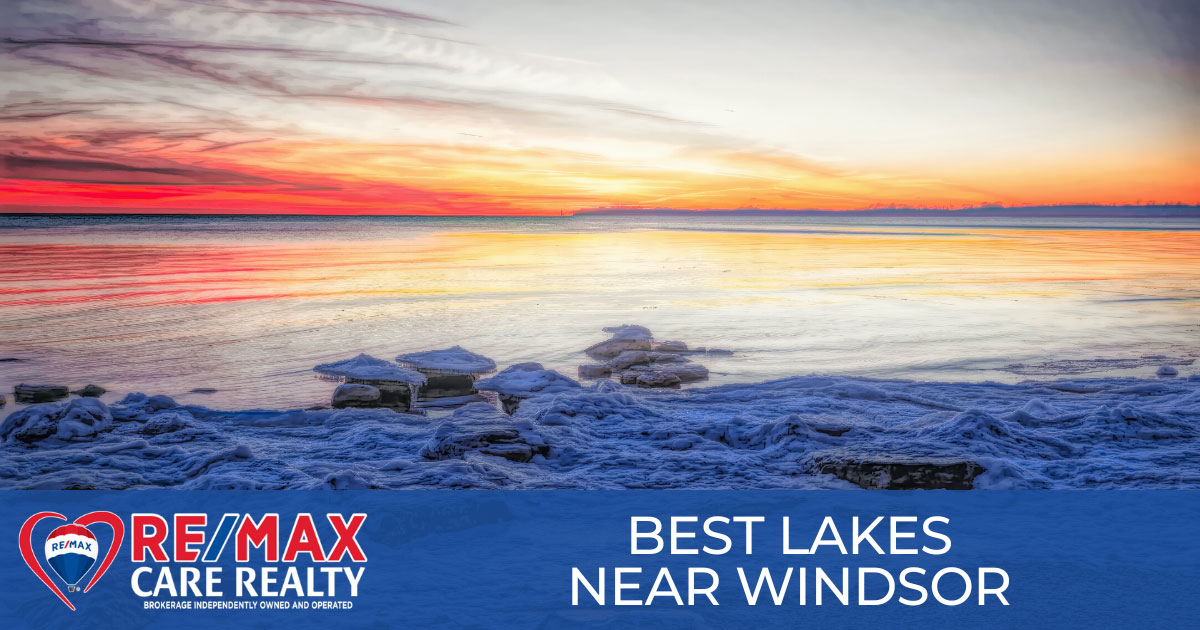 As the southernmost community in Canada, the city of Windsor, Ontario, gets warmer summers than most other places. Windsor residents often want to get out and into a nearby lake to cool off during the hottest days, and fortunately, there are numerous bodies of water nearby. Each of these lakes has its own charms, from swimming holes to beaches and opportunities for sailing and sportfishing. Here are six of the best lakes that can be found near Windsor, Ontario.
Lake Laguna
Lake Laguna is a manmade lake within the Windsor city limits. Beautiful waterfront homes surround the lake in a residential neighbourhood just north of the MacDonald-Cartier Freeway (401). Lake Laguna is one of four ponds the city uses to control water runoff during heavy rainfall periods to help prevent flooding.
Lake Laguna Park is located at 5001 Southwood Lakes Boulevard. This Windsor park has a children's playground, open daily from dawn until dusk. Some benches are right next to the water, making it a great place to relax—sometimes, migratory waterfowl can be viewed on the water.
The neighbourhood where Lake Laguna Park is located has several other small lakes in it. A paved walking path connects these lakes, so joggers, walkers, and strollers can enjoy the views.
Wolfe Lake
Wolfe Lake is another vital stormwater pond in South Windsor. The 1.2-acre Wolfe Lake Park, located at 4823 Southwood Lakes Boulevard, features a paved walking path around the water.
Like Lake Laguna, Wolfe Lake has many migratory birds and geese that spend time here. There are several viewing benches for visitors to sit and watch the birds and the water. The park also has a children's playground and is free for anyone to access, open from sunrise until sunset daily.
Lake St. Clair
Lake St. Clair borders the city's northeast side along the Riverside community, one of the best neighbourhoods in Windsor. The Detroit River flows from the lake's southern end and connects to Lake Erie to the south. Lake St. Clair is an angler's paradise, allowing sport fishermen able to try their luck at catching many fish species, including:
Steelhead
Muskie
Walleye
Northern pike
Smallmouth & largemouth bass
Yellowfish
Panfish
Sunfish
Catfish
Bullhead
Weather permitting, getting out on the lake during winter for ice fishing is possible.
Sandpoint Park borders the lake's southern end and has a sandy beach and on-duty lifeguards during summer. Additional amenities include public washrooms, a children's playground, and an area for beach volleyball. The park is located at 10300 Riverside Drive East at Florence Avenue.
Windsor also has several yacht clubs and marinas in the northeast part of the city, where people can set out to enjoy Lake St. Clair from their yacht or sailboat.
Lake Erie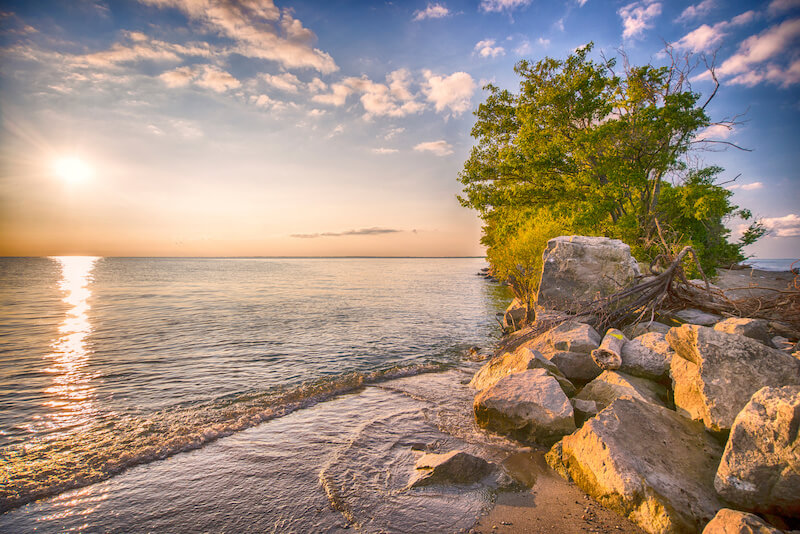 Windsor is just north of one of the Great Lakes. Lake Erie borders the entire southern boundary of Ontario from the town of Amherstburg to Buffalo, New York, in the US. The historic Waterfront Trail is a series of roads following the shores of Lake Erie to the east. This can be a relaxing drive for those who want to view this massive lake from the shore, but there are also many things to see and do along the route.
The roads pass through amazing farmlands where travellers can purchase fresh produce besides the road, and several wineries along the route provide food service and tastings.
Point Pelee National Park is about 60 kilometres southeast of Windsor. The park has several beaches, hiking trails, wildlife viewing areas, campsites, and other amenities along Lake Erie.
Blue Heron Lake
Blue Heron Lake is a manmade lake in the Riverside neighbourhood. On the north side of East Riverside Park, the lake provides year-round activities for visitors to enjoy. Explore a trail at either end and walk a 7.5-kilometre loop around Blue Heron Lake and nearby Aspen Lake. This Windsor trail is rated "Easy" and is suitable for children, strollers, jogging, or walking.
Blue Heron Lake is stocked with several sportfish species each spring. The water is clear, so visitors can enjoy spotting the various fish or trying to catch them with a rod and reel. This location is a quiet spot to go canoeing as well.
During winter, the lake freezes over, and visitors can ice skate once the icepack is thick enough.
Cedar Creek Conservation Area
The Cedar Creek Conservation Area is about 40 kilometres southeast of Windsor, near the town of Essex. It takes just over 30 minutes to drive here from downtown Windsor. This is one of the most stunningly beautiful natural areas near Windsor, so seeing everything it offers is worth the short drive. Admission to the conservation area and parking is free.
The lake has various tributaries and creeks branching out from it. A canoe and kayak launch is near the parking lot, so getting out on the water and exploring is the best way to view the lake and surrounding Carolinian forests. The lake drains into Lake Erie to the southeast, and the end of the conservation area has a sandy beach with lifeguards on duty during summer.
Fishing and hunting are allowed in the area. Visitors can also enjoy viewing turtles, herons, eagles, and other wildlife.
Enjoy the Water Near Windsor
Swimming, fishing, canoeing, kayaking, nature watching, and ice skating all await near beautiful Windsor, Ontario. The lakes on this list are just a few of the best in the area, and there are others you can discover with more exploring. Those moving to Windsor can rest assured there's always a body of water nearby to enjoy.
If you're looking for your Windsor dream home, contact Team Goran of RE/MAX CARE Realty at (519) 979-9949 to get in touch with a Windsor real estate agent who can help find the perfect place for you.