Explore Nature in Chatham-Kent: 6 Best Hiking & Walking Trails in Chatham-Kent
Posted by Goran Todorovic on Wednesday, April 19, 2023 at 12:08:31 PM
By Goran Todorovic / April 19, 2023
Comment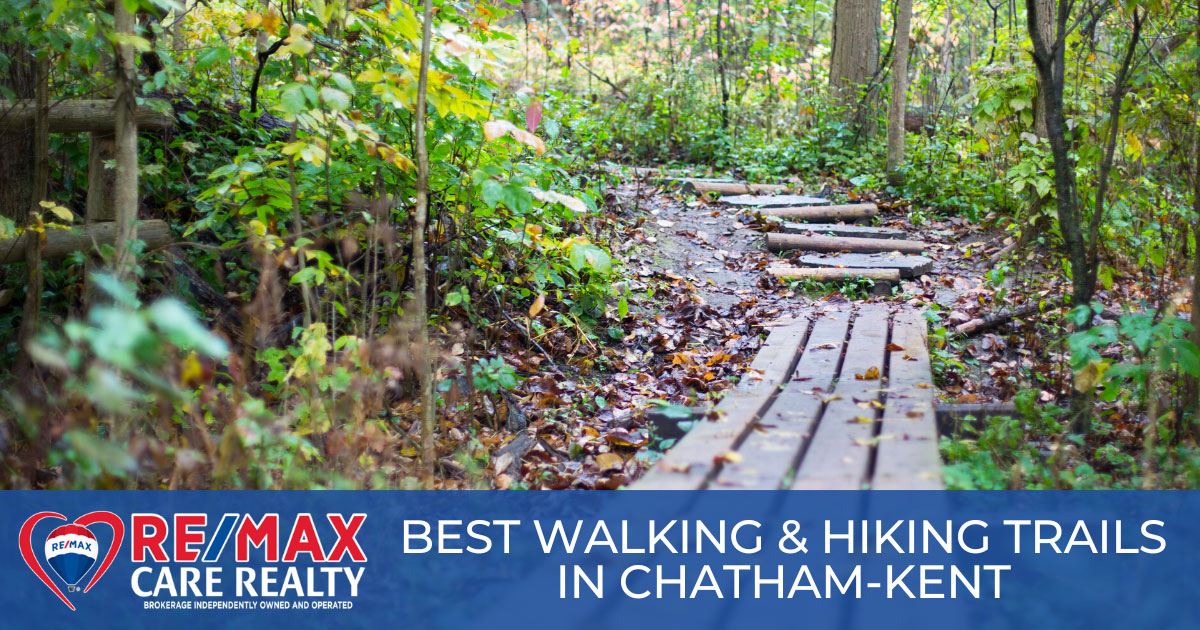 The municipality of Chatham-Kent, located in southwestern Ontario, boasts some of the best hiking trails in the province. The region offers diverse landscapes from wetlands to forests and meadows, providing hikers with scenic and varied routes to explore. For residents or homebuyers considering moving to Chatham-Kent, the area's trails have something for everyone—whether seeking a leisurely stroll or a more challenging hike. In this guide, we will explore some of the top hiking trails in the area.
Kingston Park Trail
Kingston Park is the biggest park within Chatham's city limits, and the Kingston Park Trail is a 1.3-kilometre loop trail that circles the park. There are several access points to the park where people on bicycles or on foot can find the trail. Off Paxton Drive is the main parking lot, which has the park's only portable washrooms during the summer.
The trail is paved and flat, making it an excellent place for cycling, jogging, or simply strolling through the trees. Leashed dogs are welcome to accompany their owners. Kingston Park is open 24 hours a day for residents to enjoy themselves. It has a lovely children's playground area and a splash park that is very popular on hot summer days.
Rotary Eco Trail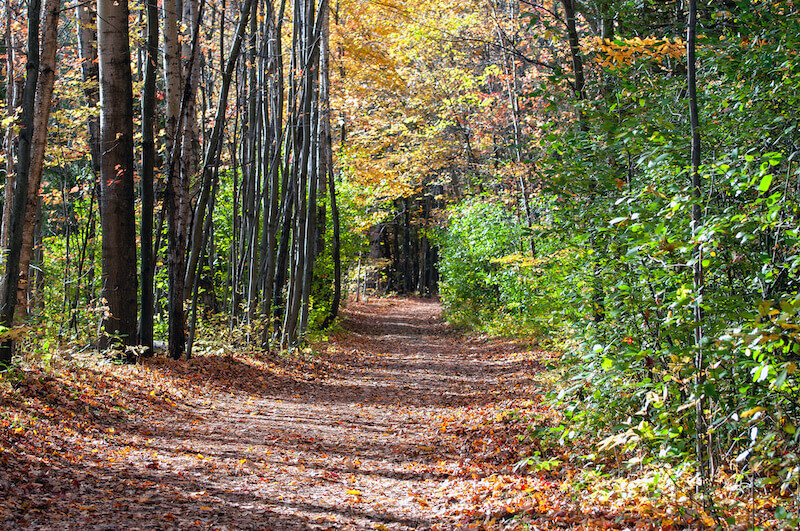 The Rotary Eco Trail is located in the O'Neil Nature Preserve on the north side of Chatham. Many area residents live in Chatham condos, so they appreciate having hiking trails nearby that they can enjoy. This is an 880-metre loop trail that winds through a wooded area. The trail can be accessed through Thornhill Park or Midwood Oxley Park in Chatham. The Midwood Oxley Park entrance has a parking lot and public washrooms.
This is a mostly flat trail with a gravel surface, though it has about a 2%–5% grade in some parts. Owners can bring their leashed dogs on the trail for a walk. The trail was built through a collaboration between the Chatham Rotary Club and other groups in the town.
Mud Creek Trail
Mud Creek is a body of water that runs through the southern part of Chatham. Surrounding the waterway on both sides is Mud Creek Park, and Mud Creek Trail follows the creek for about 3.1 kilometres in total. The trail is paved and runs on each side of the creek, so walking the trail as a quick 20-minute loop is possible. The trail crosses Sylvester Drive and Tweedmuir Avenue.
Access points are on many different parts of the trail, but the best one is on the southeast side of Blythe Park. That park has a parking lot and portable washrooms, and the trail takes off there. Various species of birds and ducks can be viewed in the habitat around Mud Creek, especially during the non-winter months. Leashed dogs are allowed on the trail.
Lark Park Trail
The Lake Park Trail is in a small park on the western side of Chatham. The paved trail is suitable for biking, walking, jogging or strolling. It is completely flat and has an "easy" rating, 1.2 kilometres when hiked out and back. There are no public washrooms available at Lake Park, though street parking is available.
Along with a playground, there's also a soccer field to run around and play, so long as a match is not underway. There are a few benches and many mature shade trees in Lake Park. Leashed dogs are welcome on the trail and in the park.
Thames Grove Conservation Area Trail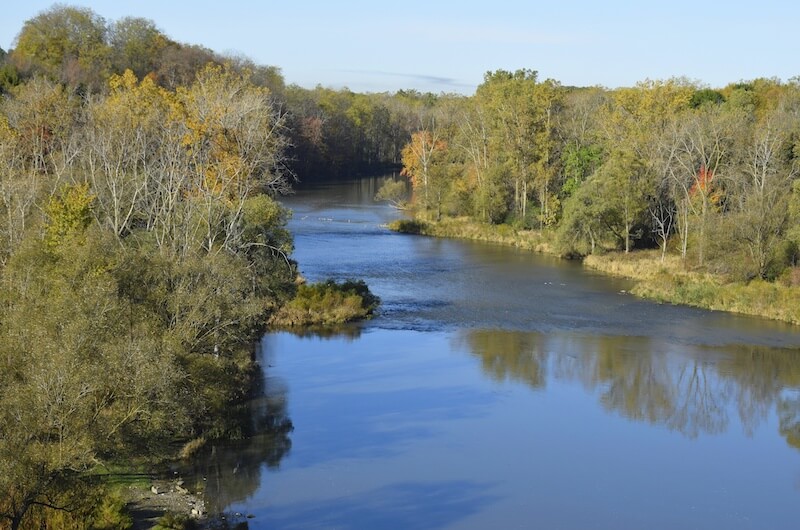 The Thames Grove Conservation Area in northeast Chatham has a natural surface trail running around it. The loop trail is slightly less than one kilometre long and takes about 15 minutes to complete. The parking lot for the conservation area is at the end of Kingsway Drive, near the public boat launch. No public washrooms are available near this trail, so plan accordingly before coming here for a hike.
This is a pleasant hike or walk due to its proximity to the Thames River. Some picnic tables, a shade pavilion, and plenty of shade trees surround the trail. Visitors are welcome to use the 9-hole disc golf course set up in the conservation area, and leashed dogs are allowed.
McGeachy Pond Conservation Area
The McGeachy Pond Conservation Area is on the coast of Lake Erie in the south part of the Blenheim community. This conservation area is free to access and is open 365 days per year, with several dirt parking spaces at both ends of this one-kilometre trail. The trail is gravel and follows along the north shore of Lake Erie for a spectacular view. An observation deck is set up about halfway along the trail so visitors can view McGeachy Pond and the waterfowl.
This conservation area has two fishing docks and a picnic table available to the public. The hiking trail makes for a nice and easy two-kilometre round trip. Leashed dogs are welcome with their owners but must be under control at all times. A portable washroom is available from April 1–October 30.
Explore Chatham-Kent's Great Trails
Chatham-Kent's hiking trails offer a unique opportunity to connect with nature and explore the beautiful landscapes of southwestern Ontario. Whether looking for a peaceful stroll or a challenging hike, visitors will surely find a trail that suits their needs; with the ease of driving in Chatham-Kent, they're all simple to access, too.
From the scenic Thames River to the lush Carolinian forests, the hiking trails in Chatham-Kent provide an unforgettable experience. With a range of options to choose from, visitors can explore the area's natural beauty at their own pace.
If you're dreaming of a home in Chatham-Kent, contact Team Goran of RE/MAX CARE Realty at (519) 979-9949 to get in touch with a Chatham-Kent real estate agent who can help find your perfect place.