6 Best Hiking Paths & Walking Trails in the Windsor-Essex Area
Posted by Goran Todorovic on Tuesday, February 7, 2023 at 3:23:58 PM
By Goran Todorovic / February 7, 2023
Comment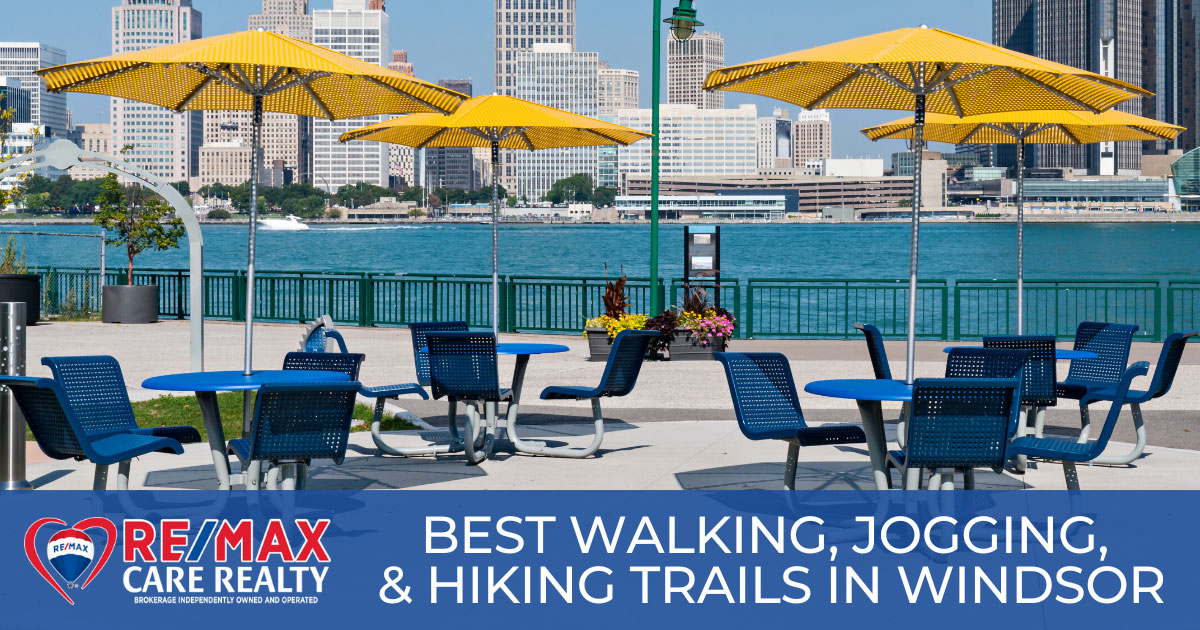 Windsor, Ontario, is increasingly becoming one of Canada's most sought-after places to live. That isn't surprising, considering the city's numerous amenities and its short distance to Detroit, just across the river.
This city of just under 250,000 residents is sprawling and vibrant, yet it still maintains a distinct small-town feel mainly because of its walkability. Locals here seem to be perpetually outside, enjoying the variety of open green spaces and excellent walking and jogging trails that are easily accessible from most homes in Windsor. Favourites include the scenic Windsor Riverfront Trail and wildlife-rich Ojibway and Tall Grass Prairie Loop, but they're just the beginning. This guide will familiarize anyone visiting or moving to Windsor with the plentiful trails and ways to experience nature here.
Windsor Riverfront Trail
The 9.5-kilometre Windsor Riverfront Trail is widely considered one of Windsor's best walking and jogging trails. This flat, paved trail runs between the iconic Ambassador Bridge and Great Western Park and takes an average of one hour and 50 minutes to complete. Note that time is if you make the trail from start to finish, but many people enjoy some time at the park or people-watching at the bridge.
The best thing about the Windsor Riverfront Trail is the epic views of Detroit's skyline that can be enjoyed at numerous points. There are plenty of benches along the trail to rest and soak up the scenery. Leashed dogs are welcome on the trail.
Windsor Sculpture Park is also found along this trail, primarily in Ambassador Park. It's referred to as "a museum without walls," with more than 30 contemporary sculptures created by world-renowned artists and displayed along the riverfront.
The starting (or ending) point for the Windsor Riverfront Trail, the Ambassador Bridge, is the busiest international border crossing in North America!
Willistead Park Loop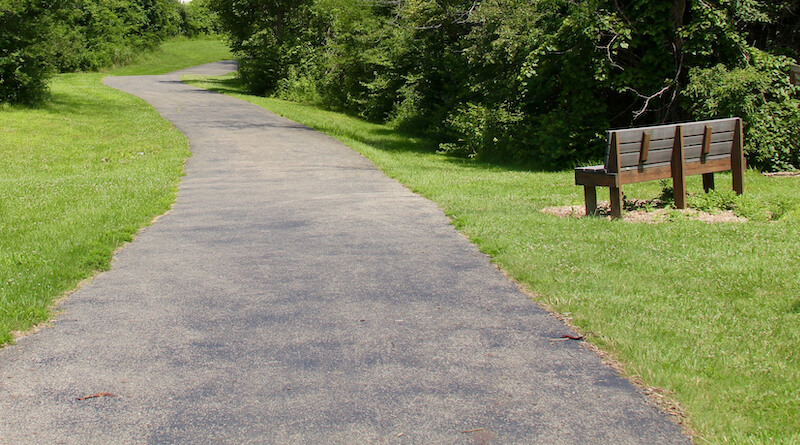 Located in the Walkerville neighbourhood, the Willistead Park Loop is a series of interconnected paths that loop through 15-acre Willistead Park. At just 600 metres in length, this trail takes approximately 15 minutes to complete.
However, you'll want to take your time here, as the park features the stunning Willistead Manor, a 16th-century Tudor-Jacobean mansion reminiscent of a storybook English manor house. Aside from the home, the estate features over 300 trees, including a couple of Kentucky coffee trees, a rare Shumard Oak, European elms, and a Tree of Heaven.
Spring Garden Loop
Spring Garden Loop is an easy 2.4-kilometre loop trail that generally takes under 30 minutes to complete. It also connects to West Windsor Recreation way. The trail is adjacent to homes in South Windsor and is important because of the numerous rare and threatened plants and animals.
On your walk, keep your eyes peeled for plants such as American Chestnut and Purple Twayblade Orchid and animals like the Red-headed Woodpecker and Grey Fox. The area is also home to a small population of the rare Eastern Mississauga rattlesnake, and it's considered one of Ontario's richest sites for butterfly diversity. Because of the abundant animal life here, dogs must be leashed at all times.
The physical landscape here is unique and quite diverse, with dry prairie, a lagoon, and woodland all found within the relatively small area. It should be no surprise that the trail is a designated Environmentally Significant Area (ESA).
Herb Gray Parkway Trail
With 17 kilometres of paved trails running adjacent to the Herb Gray Parkway/Canada 401 highway, this urban trail maintains a tranquil setting because it's positioned within 296 acres of open green space. It's the first trail in Ontario to be incorporated into a large highway project, a unique claim to fame and one that Windsor commuters will likely become familiar with.
The Herb Gray Parkway Trail opened in 2016 and is one of Windsor's most popular jogging spots. The trailhead starts on Malden Road, just across from Malden Park, and it features one continuous trail with tunnels and bridges. This offers joggers peace of mind, knowing they won't come across any vehicles. This pathway is also well-lit, so it's a great option for nighttime outings. The trail begins just south of the Sandwich community, one of Windsor's most affordable neighbourhoods.
For speedrunners, there are several hills offering a challenge along the trail. There are also a handful of designated rest areas, plus several interpretive signs detailing the region's rich cultural heritage and highlighting the important natural areas within the park. Leashed dogs are welcome.
Ojibway and Tall Grass Prairie Loop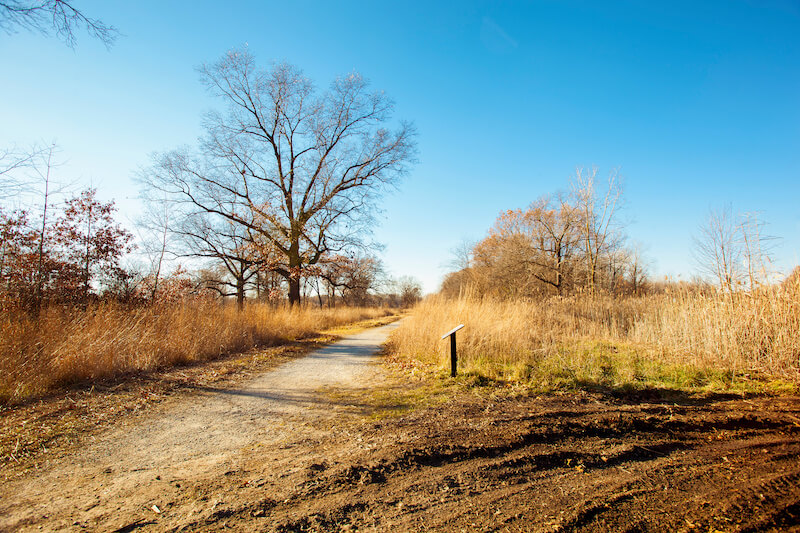 A level trail totalling 2.9 kilometres in length, the Ojibway and Tall Grass Prairie Loop is aptly named, passing through both a tallgrass prairie and an oak savannah. The loop trail connects two parks, Ojibway Park and Tall Grass Prairie Heritage Park, and is leashed-dog-friendly. Part of the Ojibway Prairie Complex, a protected area comprising six natural areas, this trail is just a 10-minute drive from homes in downtown Windsor.
This trail is incredibly scenic, as the landscape quickly transforms from a 200-year-old oak forest to a savanna to a tallgrass prairie. The extremely rare Slender Bush Clover can also be seen here, as well as Tall Green Milkweed, another rare prairie wildflower that hasn't yet been discovered elsewhere in Canada!
Animal and nature lovers should keep a watchful eye on the ponds, where you may be able to see Pronghorn Clubtail and Double-striped Bluet dragonflies. Specifically in the prairie, keep your eyes peeled for unique colourful butterflies and three species of snakes.
Blue Heron Loop
The short and sweet 3.2-kilometre Blue Heron Loop trail is tucked into the picturesque Forest Glade neighbourhood. This easy walking and jogging path goes around the artificial, L-shaped Blue Heron Lake, offering many opportunities to spot wildlife. Look out for several species of snakes and turtles, including fox snakes, garter snakes, northern water snakes, snapping turtles, yellow-bellied turtles, and painted turtles.
During the summer months, expect to see many Windsor locals fishing right from the shore of Blue Heron Lake. In the winter, the frozen lake is the perfect host for winter sports such as ice skating and ice hockey.
This is an excellent off-the-beaten-path option for getting some exercise near Blue Heron Drive, and it generally doesn't require more than 40 minutes to complete. Like most other Windsor trails, leashed dogs are permitted.
There's a Trail for Everyone in Windsor, Ontario
For just the six paths covered here, Windsor has well over 35 kilometres worth of trails well-suited to walking and jogging, and several others throughout the city. These trails are great for casual strolls or exploring Windsor's best neighbourhoods. Whether you're looking for a quick stroll to get some fresh air or take your pup on a long walk along the riverfront, there's a Windsor trail for that!
If you're looking for your Windsor dream home, contact Team Goran of RE/MAX CARE Realty at (519) 979-9949 to get in touch with a Windsor real estate agent who can help find the perfect place for you.