4 Best Neighbourhoods for Buying Windsor Bungalows: Enjoy Bungalow-Style Living
Posted by Goran Todorovic on Wednesday, July 19, 2023 at 12:58:18 PM
By Goran Todorovic / July 19, 2023
Comment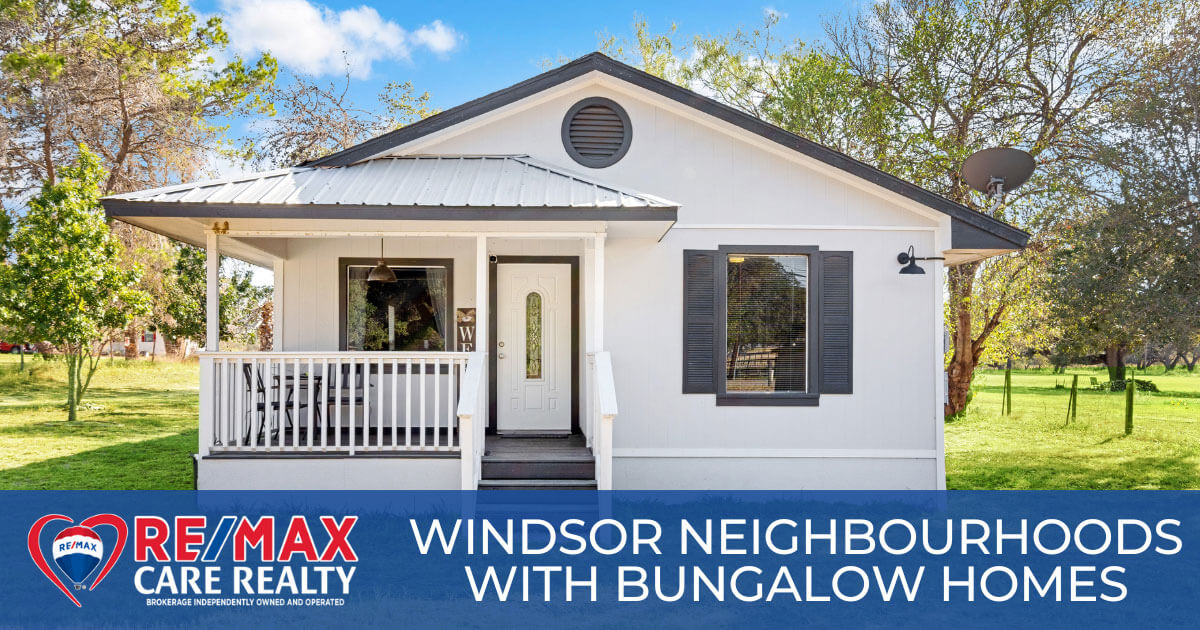 In the vibrant city of Windsor, Ontario, nestled along the scenic shores of the Detroit River, lies a treasure trove of bungalow-style homes. With their distinctive single-story design and charming architectural features, these homes offer a unique blend of comfort and timeless appeal. This article unveils the best neighbourhoods in Windsor for those seeking the allure of bungalow living. From tree-lined streets to tranquil surroundings, these neighbourhoods exude a sense of tranquillity and warmth. Whether you're a first-time homebuyer moving to Windsor or a resident considering changing architectural styles, you'll surely find a world of opportunities when exploring Windsor's bungalow-style homes.
Riverside
Riverside is located near downtown Windsor and has much to offer. This quaint neighbourhood offers lots of green space and fun things to enjoy while evoking a calm, quiet place. Small businesses are booming in Riverside, and many consider it one of the most affordable places to live in Ontario and all of Canada. Nearby cities feature lots of unique districts with different offerings for dining, shopping, entertainment, and more. There's a wide range of housing styles here, including vintage war-era bungalows and brownstones and some new construction homes, condominiums, and other rental properties.
As for housing prices, the costs vary widely. Homes for sale in Riverside list from the $300s to more than $1 million. Home buyers looking to live in Riverside have plenty to choose from, including antique homes, classic homes, and modern abodes. Residents enjoy getting outside and visiting the five-kilometre area along Riverside Drive East, the Herb Gray Parkway Trail, and Sand Point Beach, one of Windsor's best beaches. Many great businesses exist, including wineries and vineyards, restaurants, breweries, boutique shops, and more.
Riverside Amenities
The University of Windsor and St. Clair College are both nearby.
Residents may enjoy Windsor's public transportation system with over 100 buses.
Close access to water offers gorgeous waterfront views and water access.
Riverside is chock-full of green space, making it ideal for outdoor enthusiasts.
Walkerville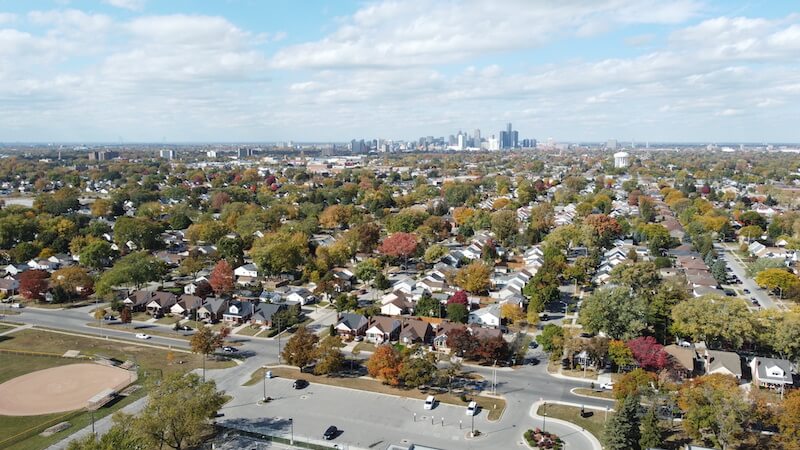 Walkerville is a thriving Ontario neighbourhood filled with historic bungalow homes. This area has a lot to offer, including a wide variety of boutique shops, restaurants, bars, breweries, and more. Residents can access many areas within walking distance, and people here support their small businesses through patronage and encouragement. Taverns, cafes, and coffee houses abound, creating a positive sense of friendliness and community. This neighbourhood features a wide assortment of true bungalow-style homes, with prices ranging from approximately $300,000–$700,000. Though it's among the most expensive neighbourhoods in Windsor, the wide range of home prices makes it more accessible than others.
Thanks to its old-world charm, there are many historic homes in Walkerville. However, you'll also find some new construction homes and modern lofts. This company town was founded by a distiller named Hiram Walker in 1858, and many original homes are well-preserved to this day. You'll find many original red brick buildings, including the former home of Walker himself, built in 1888 to house the employees working at his distillery. With a neighbourhood rich in heritage and history, Walkerville is an excellent place to live for those in the market looking to purchase an authentic bungalow home.
Walkerville Amenities
The Urban Art Market has something for everyone featuring items from people in the local community.
Anchor Coffee House is a popular java and breakfast spot.
Willistead Manor is a beautiful historic home that now hosts events and more.
Walkerville Brewery is the original place where Mr. Walker began his business in 1890 and is still open today.
South Windsor
South Windsor is a border city with plenty of green space and lots to see and do. The neighbourhood comprises brownstones, bungalows, many rental properties, and abundant green space. This area of Ontario is located near the expressway, making it an ideal location for commuters who need to go into the city. There is a range of townhomes and single-family homes in South Windsor, with average prices ranging from the $200s to the $700s. Residents enjoy visiting several community parks and some of Windsor's best community centres, including Oakwood Park and the Capri Pizzeria Recreation Complex.
Wooded walking trails provide a beautiful natural area for residents. The recreation centre offers fitness, dance, cooking classes, a large ice rink, and an indoor swimming pool. This vibrant neighbourhood is brimming with activity and a sense of community. Central Park and Curry Park are popular outdoor areas, and the Greater Essex County District School Board serves South Windsor. A mixture of housing styles is found in this area, including updated townhomes, large vintage bungalows, and contemporary new-construction homes.
South Windsor Amenities
The neighbourhood's eastern edge features a shopping area anchored by a Walmart.
Residents enjoy shopping at local stores at the Yorktown Square shopping centre.
Deb's Place is a casual local restaurant.
Cramdon's Tap & Eatery is a popular spot for food and alcoholic beverages.
Sandwich
Sandwich, or Old Sandwich Town, is located along the Detroit River and is widely considered one of Windsor's best waterfront neighbourhoods. This beautiful neighbourhood was established in 1797 and is thought to be one of Ontario's oldest and most historically significant settlements. Many historic buildings remain in Sandwich, with an annual festival held each year to celebrate the area's rich heritage. Mackenzie Hall is now a cultural centre but was once a 19th-century jail and courthouse. The Duff-Baby House is a museum located inside a 1798 residence. Today, Sandwich is one of the biggest and most popular communities thanks to its proximity to downtown Windsor.
Housing in Sandwich is affordable, and there are plenty of styles to choose from, including many vintage bungalows. Home prices are quite affordable here, with costs around $279,000 on the lower end. More expensive homes for sale in Sandwich range from the $400s to the high $600s. This unique neighbourhood's motto is "healthy, vibrant, and caring," and it is one of the largest in all of Windsor to offer both affordable and new-construction homes. There are lots of walking and biking trails, several marinas, and a rowing club for fans of nature and outdoor activities.
Sandwich Amenities
Sandwich has many wetlands and woods to enjoy.
Approximately 7% of Sandwich is set aside for a natural historical reserve.
Visitors and residents can take the self-guided heritage walking tour to learn more about the area.
The Essex Golf & Country Club has hosted PGA events and is located on the edge of Sandwich.
Find a Bungalow-Style Home in Windsor Today
The city of Windsor boasts an array of neighbourhoods that showcase bungalow-style homes' enduring charm and desirability. From the welcoming ambiance of Riverside to the historical richness of Walkerville—and from the high-priced areas to Windsor's most affordable neighbourhoods—each area has its own distinct character and allure. The abundance of amenities, picturesque surroundings, and a strong sense of community make these areas ideal for those seeking a bungalow-style home. Whether you're drawn to the architectural beauty, the convenience of single-story living, or the tranquillity of these neighbourhoods, Windsor offers many options. Don't miss out on the opportunity to discover the best Windsor has to offer for bungalow enthusiasts.
Windsor Bungalow Resources
Common Characteristics of Bungalow Style Architecture - Coming Soon!