Cost of Living in Chatham-Kent: 2023 Housing Prices & Living Expenses
Posted by Goran Todorovic on Thursday, February 2, 2023 at 9:42:19 AM
By Goran Todorovic / February 2, 2023
Comment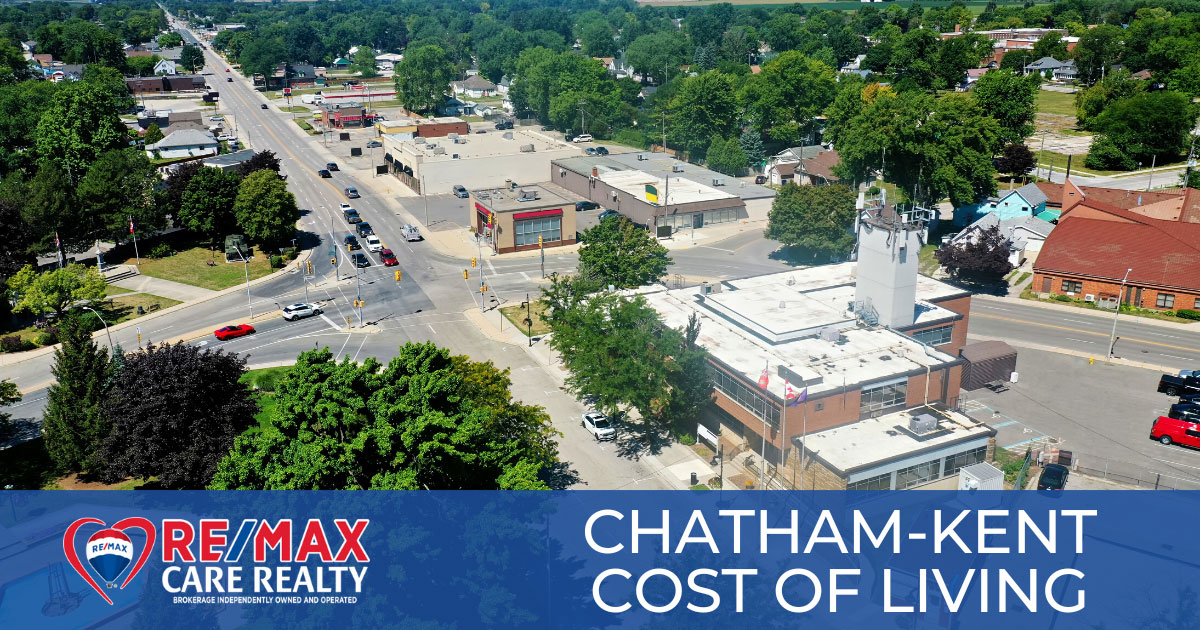 Established in 1998, the Municipality of Chatham-Kent includes more than 20 communities, including Chatham Township and the city of Chatham. The municipality is the largest in southwest Ontario.
The cost of living in Chatham-Kent is roughly 14% lower than the national average and 23% lower than the average cost of living in Ontario. Some price increases have occurred in recent years, such as housing and groceries. However, the cost of homes for sale in Chatham-Kent is still 67% lower than the national average and 87% lower than home prices in Ontario. Additionally, the cost of goods and services is around eight% higher than the national average. Here's a breakdown of the overall cost of living in Chatham-Kent, Ontario.
Housing Costs in Chatham-Kent
As noted above, housing costs in Chatham-Kent are considerably lower than the Ontario average and national average. Other Ontario cities have lower housing costs overall, although most are not as low as Chatham-Kent's.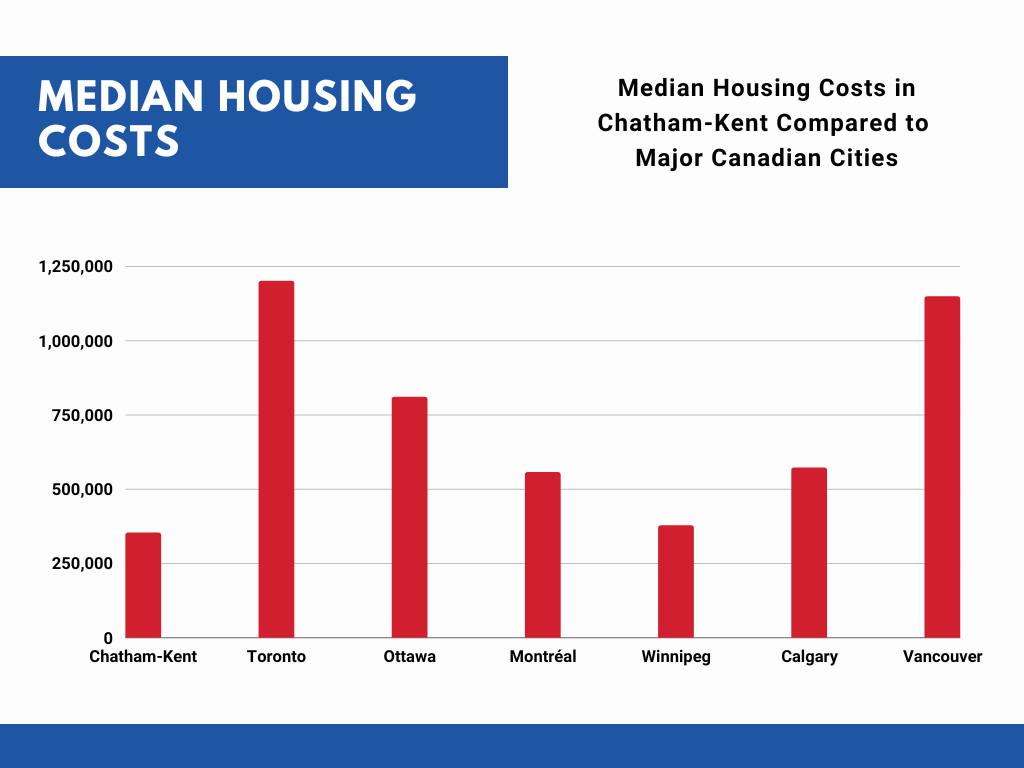 Nearby cities and their overall housing costs include:
London: 46% lower than the national average
Brantford: 52% lower than the national average
Hamilton: 33% lower than the national average
Burlington: 6% lower than the national average
Smaller cities and towns tend to have housing costs comparable to Chatham-Kent. For example, Newbury's housing costs are 73% lower than the national average, and the Leamington area has housing costs 60% lower.
Median Home Price
The median home price in Chatham-Kent is $353,000 and includes a housing market of many property types. Some homes in this municipality typically cost more, such as waterfront properties with views of Lake Erie and luxury homes for sale on spacious lots in the Blenheim community and other expensive Chatham-Kent towns.
Higher home prices are also in and around downtown Chatham, close to many attractions and amenities. Lower housing prices are available in the Wallaceburg neighbourhood, the Tilbury community, the Dresden neighbourhood, and the Ridgetown community.
Median Rent
The median rent in Chatham-Kent is $2,375. Two-bedroom apartments have a median rent of $1,523, while three-bedroom apartments have a median rent of $2,132. While median rental prices for different sizes fluctuate, particular areas of this municipality tend to have more rental properties than others. For example, Chatham has several apartments and rental homes starting at around $650. Ridgetown, Dresden, and Wallaceburg have fewer rental properties.
Utilities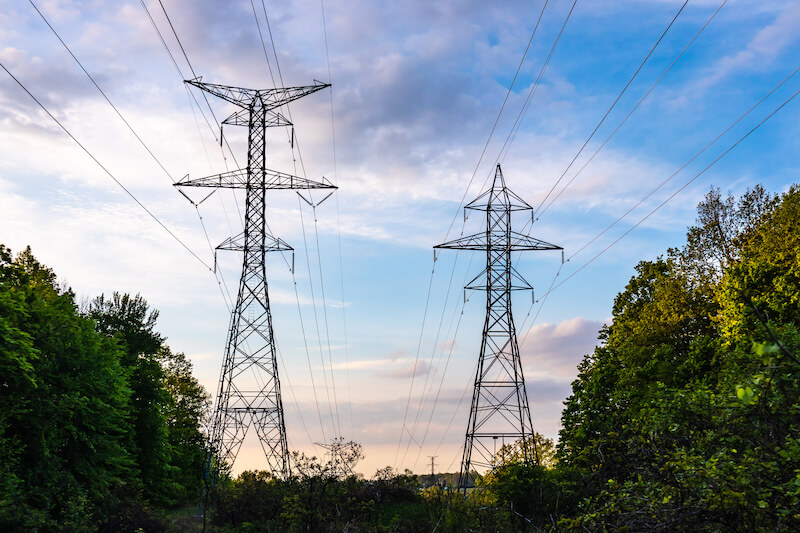 Monthly utilities in Chatham-Kent often include water, electricity, heating, internet, insurance, cable, and phone costs. Residents in urban areas of Chatham-Kent have fixed monthly rates ranging from $27.05 to $399.81 for water bills, depending on their water meter size. Those living in rural areas have fixed monthly rates ranging from $28.05 to $404.31, depending on their water meter size.
For internet service, Chatham-Kent residents pay an average of $75 per month. Some internet providers offer satellite or cable TV and phone service at bundled rates lower than paying for each service separately.
Utility bills for one person, including electricity, water, and heating, average $67 per month for Chatham-Kent residents. For a household of four, utilities average $105 per month.
Residents can also purchase tenant, homeowners, condo, or other types of property insurance. Rates and premiums for property insurance can vary widely, depending on the amount insured and other factors.
Chatham-Kent Food Costs
Chatham-Kent has several supermarkets, as well as some specialty grocery stores, many of which are in and around Chatham. This municipality also has various restaurants for residents who want to enjoy dining out, especially in downtown Chatham and the surrounding area. Overall, grocery and restaurant food costs are slightly lower in Chatham-Kent compared to larger cities in Ontario and average national prices in all of Canada.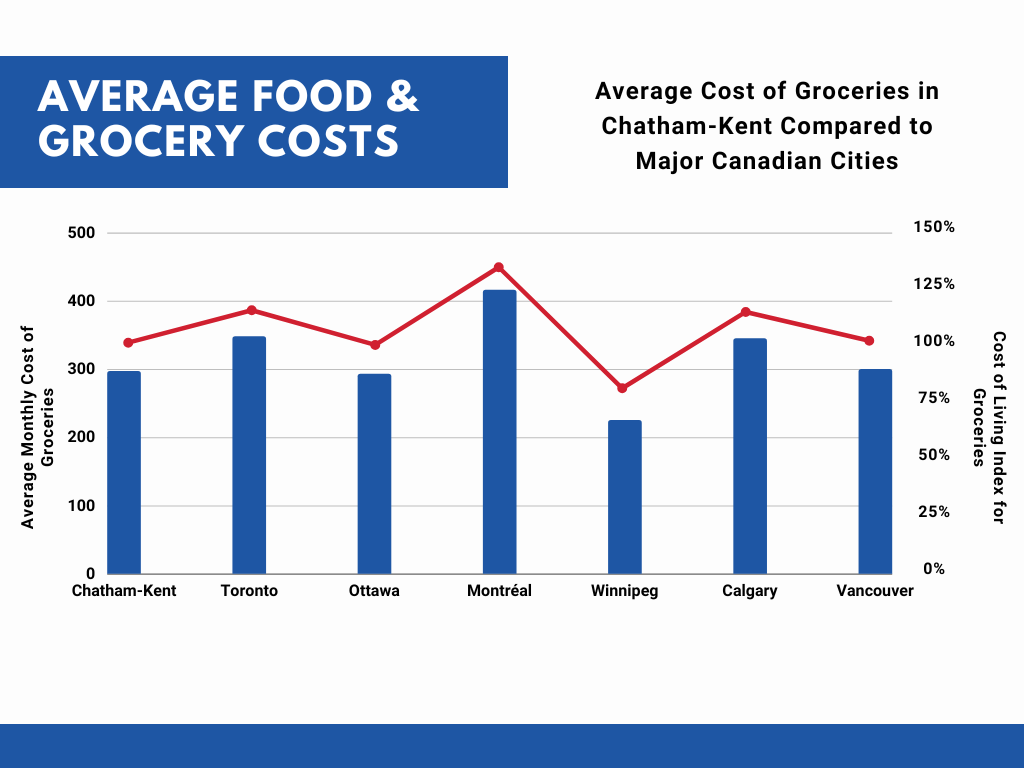 Groceries
Residents in Chatham-Kent typically pay less than the average resident in Ontario for groceries. Prices on everyday items, such as meat, dairy, cereal, fruits, and vegetables, tend to cost slightly less than the Ontario average. Some common supermarkets and grocery stores in Chatham-Kent include M&M Food Market and Mercato Fresh.
Restaurants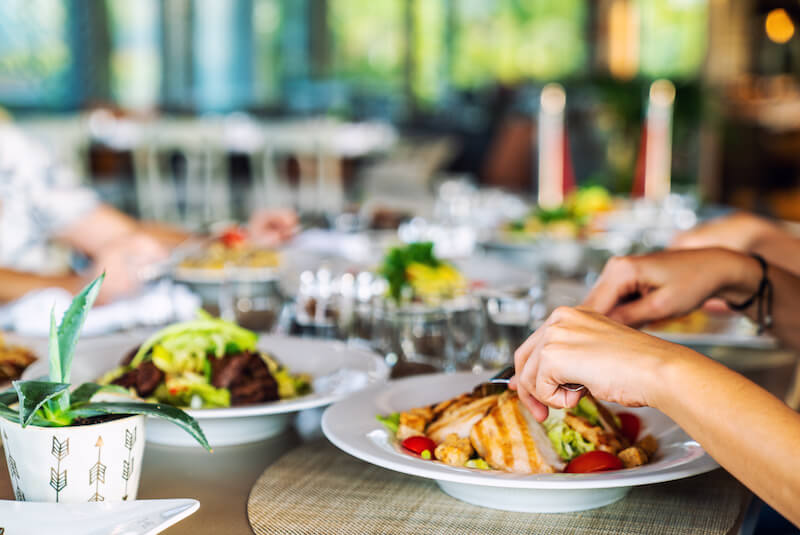 Chatham-Kent's restaurants range from fast-food franchises to fine dining experiences. The average cost of a fast food meal here is around $9, while the average cost of lunch at a casual restaurant is approximately $12. Dinner at a fine-dining restaurant in Chatham-Kent like Chilled Cork and Churrascaria Steakhouse and Takeout averages $80 for two.
Transportation Costs in Chatham-Kent
Residents can travel around Chatham-Kent via car on major roads or take public transportation in certain areas. Public buses are available in and around Chatham, Wallaceburg, and some outlying areas. Taxis and rideshares provide other options for residents to get around the Chatham-Kent area.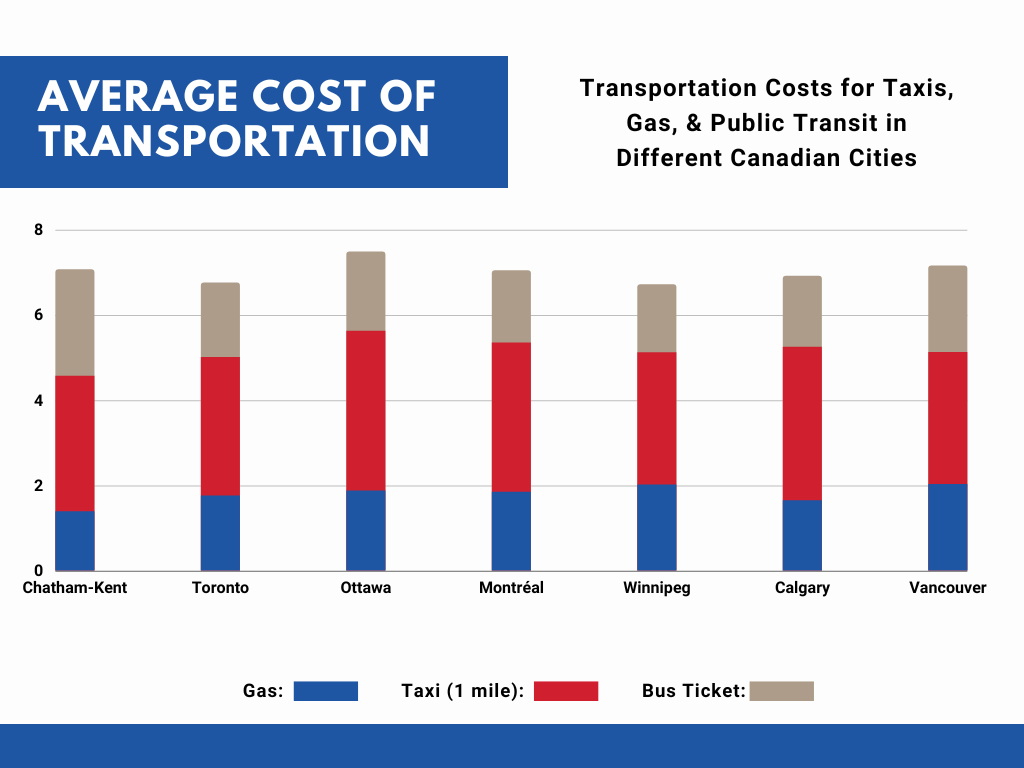 Gas prices range from $1.39 to $1.41 per litre but change depending on fuel rates. Drivers should also factor the average auto insurance premium for Chatham-Kent residents into their cost of living, roughly $140 per month or $1,660 per year.
Taxi rides and rideshare costs vary considerably. For example, the estimated fare for a ride from downtown Chatham to Wallaceburg is $86.50. Alternatively, a taxi ride from downtown Chatham to Chatham-Kent Airport is approximately $24.
CK Transit offers bus service within Chatham and other areas within Chatham-Kent, except for the Wheatley community. Bus fares for urban routes are $2.50 for adults, students, and seniors; children under five can ride the bus for free. Bus fares for inter-urban routes are $5 for adults, students, and seniors.
Chatham-Kent Healthcare Costs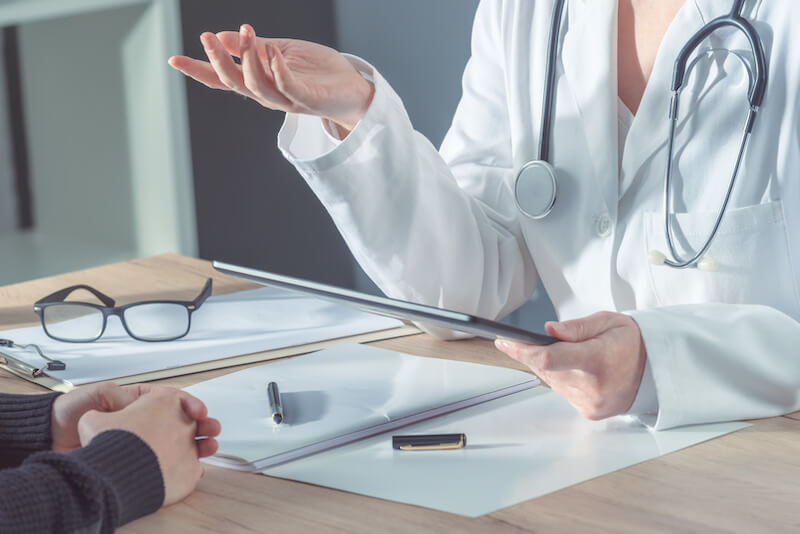 Healthcare costs for Chatham-Kent residents can vary considerably, depending on the types of healthcare services needed, whether or not they have the Ontario Health Insurance Plan (OHIP), and other factors. OHIP typically covers emergency and preventative healthcare services for those eligible for this health insurance plan. However, some individuals' prescription drugs, dental, and eye care services are not included. Residents have the option to purchase private insurance for these services.
OHIP covers one eye exam every 12 months for those 19 and under and those 65 and older. Routine dental services for those 65 and older who meet specific income requirements are covered.
Veterinary services in Chatham-Kent vary based on the types of services, pet size, breed, age, and other factors. Overall, the annual average cost of dog care is roughly $3,700 and $2,550 for cats, which includes vet services, food, grooming, and other expenses.
Child Care Costs in Chatham-Kent
Chatham-Kent residents can hire a nanny or enroll their child in daycare or a childcare centre. The Early Learning and Child Care Program helps improve affordability for child care costs in Ontario, including Chatham-Kent. Under this program, those with children five and under in participating child care centres will have fees reduced up to 50% on average. The cost of hiring a nanny in the Chatham-Kent area can vary, although the average rate is $16 per hour.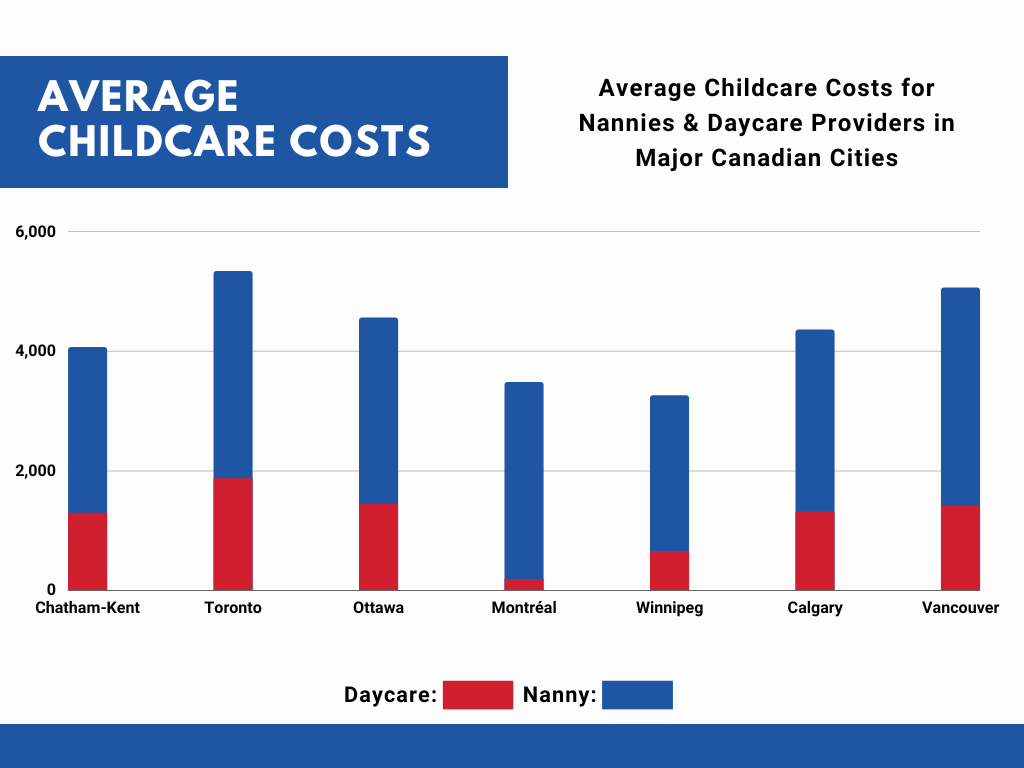 The cost of childcare centres varies based on age, full- vs. half-day options, and other factors. For example, a childcare centre might charge $46 for full-day child care and $30 for half-day childcare for children not eligible for reduced rates under the Early Learning and Child Care Program. Rates for care before school, after school, or both, are typically lower since this covers a shorter amount of time.
Chatham-Kent Entertainment Costs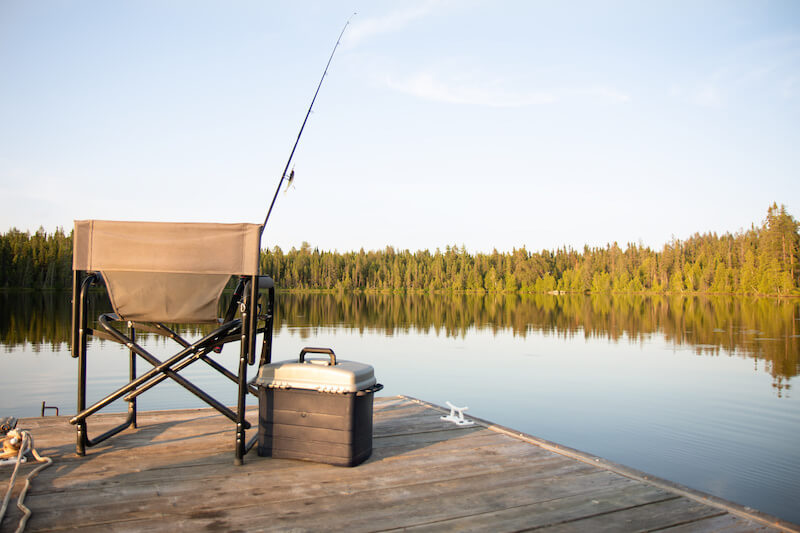 Chatham-Kent offers various activities, including the annual RetroFest in downtown Chatham, Discover CK Market and Concert in Ridgetown, and Cars and Coffee in Blenheim. Other events include Thamesville Christmas Festival, Wallaceburg Holiday Market, and Wheatley Fish Festival. While some festivals and events are free of charge, others range in price or have food, beverages, crafts, and other goods available for purchase.
Residents can also take part in local fishing tournaments for the cost of a fishing license. Fishing license fees in Ontario are $8.57 for an Outdoors Card, $79.71 for a three-year sport fishing license, or $45.21 for a three-year conservation fishing license.
Chatham-Kent is home to several cultural and historical attractions, such as Buxton National Historic Site and Museum. This site has prices of $7 for general admission, $6 for seniors and students, and no charge for preschool children. Chatham Capitol Theatre offers live performances and film showings throughout the year for varying prices. Thames Art Gallery offers admission by donation.
Ontario has a Harmonized Sales Tax (HST) rate of 13% and a point-of-sale rebate offering 8% relief on the provincial portion.
Salaries in Chatham-Kent
Residents in Chatham-Kent earn an average salary of approximately $68,500 per year or about $33 per hour. Popular job titles and their approximate yearly wages in the area include the following:
Pharmacists: $138,000
Registered nurses: $95,000
Bank tellers: $40,000
Personal trainers: $60,000
The median household income in Chatham-Kent is about $58,000 before taxes and around $53,000 after taxes.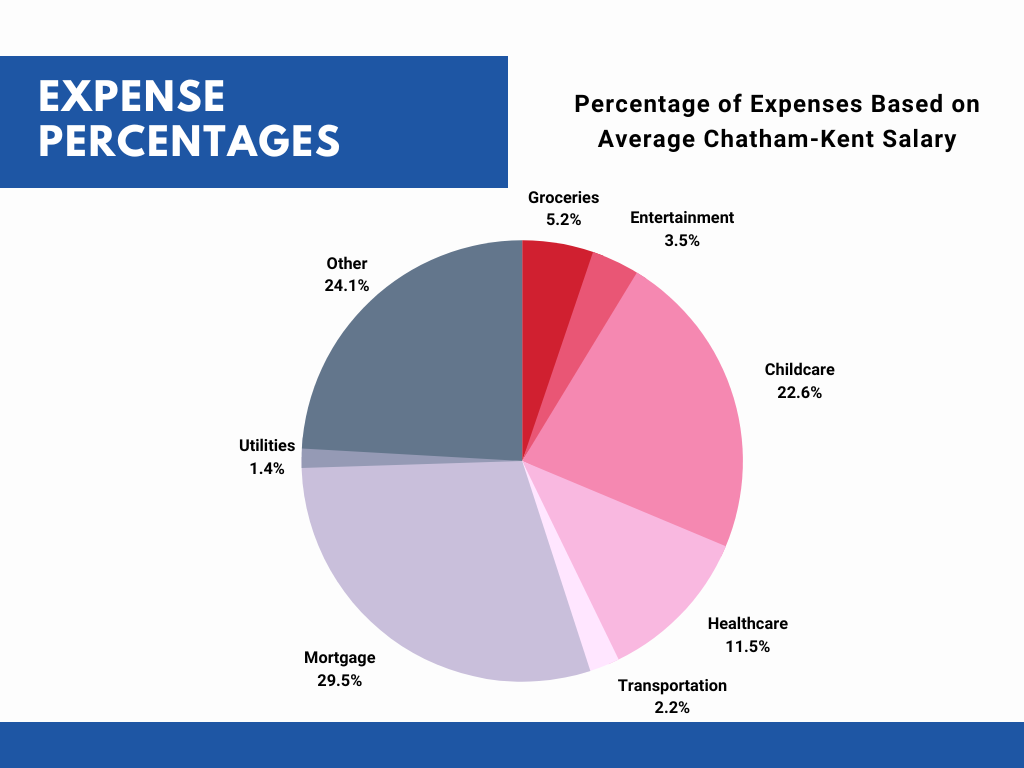 Some typical higher-paying job titles in Chatham-Kent include sheet metal journeyman, director of operations, process operator, and sales manager, paying over $65,000 per year. Other jobs in the automotive, agribusiness, and energy industries tend to pay higher salaries. These are some of the top sectors in Chatham-Kent's economy. The minimum wage in Ontario is $15.50 per hour.
The unemployment rate for Chatham-Kent is 5.1%, lower than other areas of Ontario and Ontario's overall unemployment rate of 5.9%.
Additional Considerations for Living in Chatham-Kent
Those interested in moving to Chatham-Kent should get to know the different communities that make up this municipality. The above information can help you compare the cost of living and other expenses to determine where to live in the area. From urban communities filled with restaurants, shops, and other amenities to rural areas with spacious lots to waterfront homes along Lake Erie, Chatham-Kent offers something for every homebuyer.
If you're dreaming of a home in Chatham-Kent, contact Team Goran of RE/MAX CARE Realty at (519) 979-9949 to get in touch with a Chatham-Kent real estate agent who can help find your perfect place.