Getting Around Chatham-Kent: Driving Tips + How to Use Ride CK & VIA Rail
Posted by Goran Todorovic on Tuesday, December 6, 2022 at 3:21:43 PM
By Goran Todorovic / December 6, 2022
Comment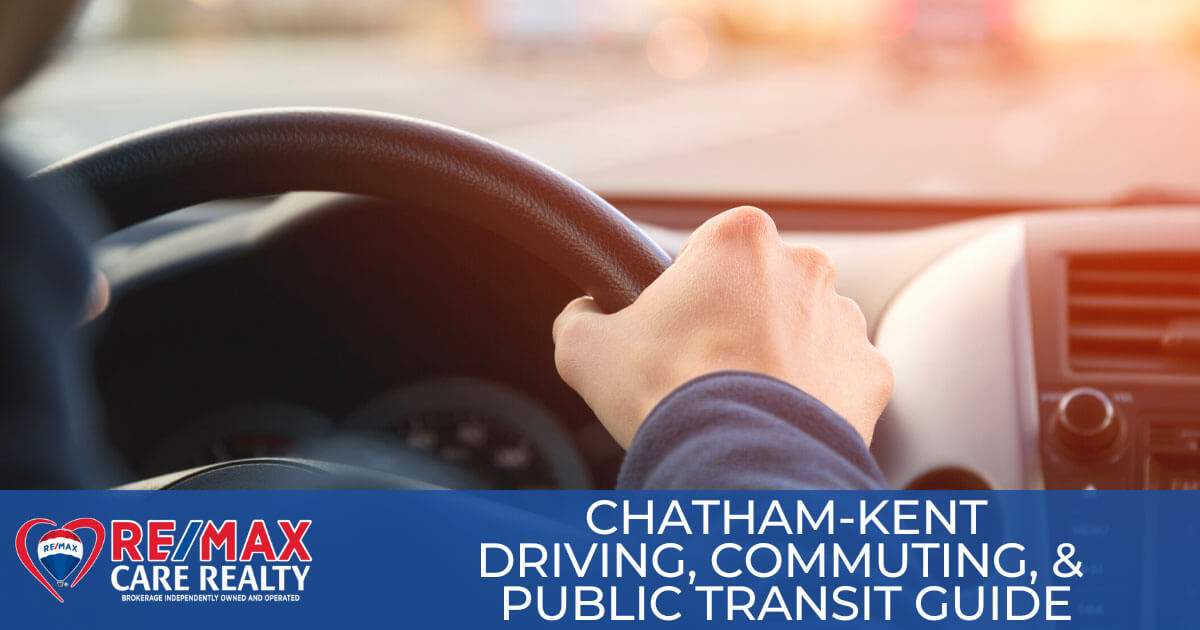 Chatham-Kent is a predominantly rural part of Ontario, but it still takes some adjustment time before new arrivals can find their way around. With several different population centres and major bypass roads running through it, it can take some time to get comfortable driving here, especially for visitors and homebuyers moving to Chatham-Kent. Daily commuters are heading to London or Windsor or various points in between, not to mention many tourists during the summer season driving either the King's Highway or Talbot Trail, which runs along the north shore of Lake Erie.
If you just bought one of Chatham-Kent's homes for sale, you can benefit from some insider information to help you get around town. Here's a guide to help get someone up to speed quickly when they're new to driving, public transportation, and commute times in Chatham-Kent, ON.
Get to Know Chatham-Kent's Major Roads
The King's Highway (Ontario Highway 40) is one of Chatham-Kent's most famous historical roads. This trunk highway begins south of Chatham near Kent Centre at Highway 401 and ends at the 402 Freeway to the north at Sarnia.
Highway 2 and the Macdonald-Cartier Freeway (401) are the two major east-west roads running through Chatham-Kent. Highway 2 leads northeast toward London. The 401 Freeway leads from Windsor to the west, bypassing just south of Chatham and continuing northeast to London and beyond in Ontario.
The Talbot Trail (Highway 3) is a scenic highway drive that runs along the north shore of Lake Erie for much of its route. It's a nice drive that showcases rural farms and stately waterfront homes.
Another major north-south route is Highway 21, which connects the 401 Freeway at Beechwood (in Chatham-Kent) to the 402 Freeway just east of Sarnia.
What to Expect Driving at Different Times of Day in Chatham-Kent
Drive times and public transportation impact home values, so homebuyers considering Chatham-Kent will enjoy the convenience and options in the area. While the roads and streets in Chatham-Kent get busier at certain times, drivers are unlikely ever to encounter a traffic jam here. The busiest driving time is from 6:00–9:00 a.m. on weekdays, with most traffic between 7:00 and 8:00 a.m. Although the municipality has a public transit system, most commuters prefer to drive a personal vehicle such as a car, truck, or van.
The average commute time in Chatham-Kent is about 19 minutes, where almost half of all motorists can make it from home to their workplace in less than 15 minutes. The traffic along the 401 Freeway stays at a good speed all day long, barring occasional accidents. Within the town of Chatham itself, motorists usually find slight delays if they have to cross one of the bridges on the Thames River. These delays are generally less than five minutes and tend to happen on the north and south sides of the Parry Bridge and the bridges on LaCroix Street, 3rd Street, and 5th Street.
Parking in Chatham-Kent
Chatham-Kent has a mix of free and paid parking. There are municipal parking lots in both Wallaceburg and Chatham in their downtown areas. For example, in Chatham, most municipal parking lots are on the north and south sides of the Thames River, between 3rd and 5th Street. Municipal lots in both towns require parking permits, which cost $33.90 per month. There are some metered parking spots in Chatham, which cost $5.00 per two hours. Street parking is free in most places outside of the two downtown areas.
Public Transportation in Chatham-Kent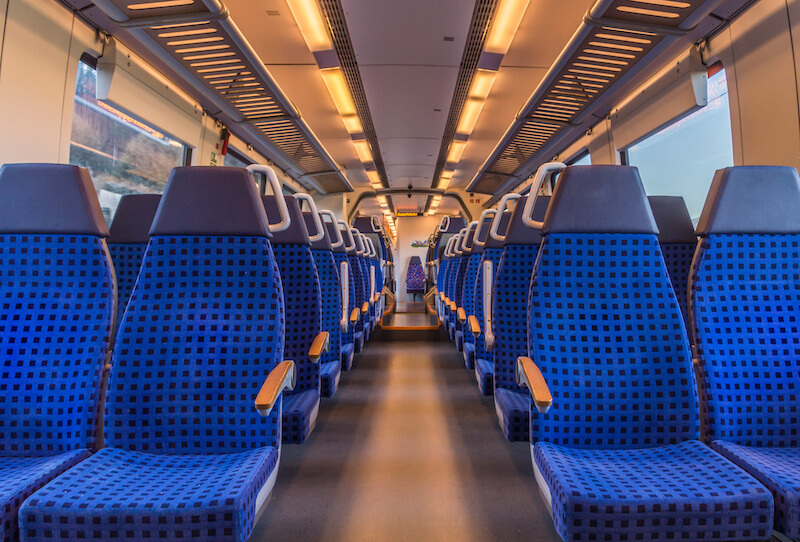 Around 450 people use public transportation daily in Chatham-Kent. This represents about one percent of all daily commuters. The two public transportation options include Ride CK (bus) and VIA Rail (train). Even though most people commute to work using a personal vehicle, it's nice to know that public transportation options are available as a backup in case of a vehicle breakdown.
Ride CK
Ride CK is the municipal bus service in Chatham-Kent. It provides both Urban Service in Chatham and Inter-Urban routes that transport people from Chatham to other urban areas. The five Urban Service Routes in Chatham are numbered 1–5. The three Inter-Urban routes are labelled routes A, C, and D.
Route A runs north from Chatham to Wallaceburg and then west to Dresden, while Route C runs from Chatham to Charing Cross, Blenheim, and Ridgetown. Route D connects Chatham to Charing Cross, Cedar Springs, Dealtown, North and South Buxton, Merlin, and Tilbury. Ride CK's Route Maps make it easy to figure out if there is a public transportation option that works best for a commuter.
The bus service also provides Specialized Transit for people with disabilities who cannot use conventional public transit buses. Specialized Transit service is available anywhere within Chatham and Wallaceburg at the same fare rates as conventional transit buses.
Ride CK uses exact cash for bus fares or a Smart Card system for those who use the bus regularly. The Smart Card is pre-loaded with cash, and the commuter taps it on the fare box when they get on the bus. The fare is then deducted.
Ride CK Ticket Costs
Exact Cash Fare (All Ages): $2.50
Kids Under 5: Free with accompanying adult
30-Day Urban Pass (Regular/Adults): $78.23
30-Day Urban Pass (Seniors 65+ & Students 6-17): $61.47
Inter-Urban Routes: $5.00 exact cash
Semester Pass: $156.46 per semester for college students
VIA Rail
VIA Rail Canada trains pass through Chatham eight times every weekday. Four stops are on westbound trains headed to Windsor-Essex, and the other four travel northeast to London, ON. VIA Rail connects to more than 400 locations all across Canada. The train service is unlikely to be used for daily work, but it is an excellent option for disabled persons who may not have other means of transportation.
The four departures from Chatham to London happen on weekdays at around 6:30 a.m., 9:30 a.m., 2:30 p.m., and 6:30 p.m. This route takes about an hour and ten minutes. The four departures from Chatham to Windsor happen at 10:19 a.m., 3:40 p.m., 9:06 p.m., and 11 p.m. The Chatham-to-Windsor route takes about 50 minutes. The Chatham train station is open and staffed from 20 minutes before arrival until 20 minutes after the train departs.
All VIA Rail trains have complimentary Wi-Fi, power outlets at every seat, and a selection of meals, snacks, and beverages. Carry-on baggage is allowed so long as the luggage is within the required weight limits.
VIA Rail Ticket Costs
Escape (one-way): $20
Economy (one-way): $25
Economy Plus (one-way): $40
Commute Times from Nearby Communities to Chatham
The nice thing about Chatham-Kent is that commuting anywhere will feature beautiful scenery. The municipality's location between Lake Erie and Lake St. Clair ensures that there are water views on many routes and many trees and greenery in this part of Ontario. All commute times listed below are from Downtown Chatham near the Thames River to the downtown area of the target city.
Wallaceburg
The King's Highway (Highway 40) is the fastest route from Chatham to Wallaceburg, which is to the northwest. Even during "rush hour," this route only takes about 25 minutes of driving time. An alternate route is to take Bear Line Road (Highway 43) north and then take a right on County Road 42 until it intersects with Highway 40, then take 40 the rest of the way. This is a 35-minute route. Inter-Urban bus route A takes Highway 40 to Wallaceburg twice each weekday morning and takes about an hour.
Tilbury
Tilbury is the westernmost town in Chatham-Kent, located about 26 kilometres southwest of downtown Chatham. The fastest route is to take Chatham-Kent County Road 2 the entire way. The drive can take between 20 and 25 minutes, even during the morning rush. Alternate routes include Riverview Line and Merlin Road to County Road 2 or Park Avenue West, 5 Line E and Dillon Road to County Road 2. Both of these alternate routes take 25 to 30 minutes. Inter-Urban bus route D takes about two hours to get from Chatham to Tilbury because the route first heads south to Talbot Trail and then heads back north through North and South Buxton before meandering over to Tilbury.
Wheatley
Wheatley is in the far southwest corner of Chatham-Kent, about 45 kilometres from Downtown Chatham. The fastest way to get there is to take County Road 2, west of Chatham. Turn south on Davidson Road and then west on Middle Line. From Middle Line, turn south on County Road 1 and follow it the rest of the way to Wheatley. The drive takes between 35 and 45 minutes during morning rush hour conditions. There is no public transit option to get from Chatham to Wheatley.
Blenheim
Blenheim is about 20 kilometres southeast of Downtown Chatham. The fastest route is taking Grand Avenue East from Chatham and then turning south on King's Highway (Ontario Highway 40). The King's Highway heads straight down to Blenheim, and the route typically takes around 20 minutes. Another option is to take Charing Cross Road (County Road 10) south of Chatham and then turn east on Middle Line. This route also takes about 20 minutes. Inter-Urban bus route C connects Chatham to Blenheim, which takes about 45 minutes.
Ridgetown
Ridgetown is about 32 kilometres directly east of Chatham. The fastest way to get there is to drive east on Park Street and then turn southeast on Creek Road (County Road 14). That road eventually intersects with the King's Highway (40). Take the King's Highway southeast for about one kilometre and then get on the 401 Freeway eastbound. Take Exit 101 and then turn right on Kent Bridge Road. Finally, turn left on Ridge Line and follow it to downtown Ridgetown. The route takes between 25 and 35 minutes. Inter-Urban bus route C also connects Chatham to Ridgetown and takes about 75 minutes.
Windsor
Windsor's best neighbourhoods are located about 80 kilometres west of Chatham. The fastest route is heading southwest on Queen's Line (Highway 2). Get on the 401 Freeway about 2 kilometres east of Tilbury. Follow the 401 westbound to the outskirts of Windsor, and then take Exit 13. Take Dougall Parkway northbound until it turns into Dougall Avenue and Ouellette Avenue. Ouellette heads straight to Downtown Windsor from there. The commute can take anywhere from 55 minutes to 75 minutes, depending on rush hour traffic. The VIA Rail train makes the commute in about 50 minutes at the times listed above.
London
London, ON, is about 115 kilometres northwest of Downtown Chatham. The fastest route is to take the King's Highway southeast and then get on the 401 Freeway heading northeast. Follow the freeway to Westminster and then take Exit 186. Turn north (left) on Wellington Road South and follow that the rest of the way to Downtown London. This commute can take anywhere from an hour and 10 minutes to an hour and 40 minutes during weekday rush hours. Another option is to take County Road 2 up to London, which usually adds at least 10 minutes to the drive. VIA Rail trains depart Chatham four times daily and take just over an hour to get to London.
Other Helpful Things to Know About Driving in Chatham-Kent
Anyone driving in Chatham-Kent should utilize safe winter driving practices. Studded tires are forbidden in all parts of southern Ontario, including Chatham-Kent. The next best option is a four-wheel-drive vehicle with a set of winter tires for traction. Most insurance providers offer a discount for using winter tires. Keeping a personal vehicle's fuel tank at least half-full will add weight and stability when the roads are slick.
It's also recommended that all commuters keep a winter survival kit in their vehicle. This should include a charged phone, blankets, a shovel, sand or traction mats, water and non-perishable foods, and a fire method (matches or a lighter).
Commuting is Always Beautiful in Chatham-Kent
The picturesque drives and commutes in the area provide the perfect complement to Chatham-Kent's growing economy. The ride will surely be beautiful no matter where a commuter is heading in Chatham-Kent. The scenery in this part of Ontario is lovely, making for a pleasant daily drive to work. Take the time to get to know the major routes in and out of the municipality, and you'll be driving here with ease!
If you're dreaming of a home in Chatham-Kent, contact Team Goran of RE/MAX CARE Realty at (519) 979-9949 to get in touch with a Chatham-Kent real estate agent who can help find your perfect place.