Waterfront Home Design: 4 Must-Haves For Homes on the Water
Posted by Goran Todorovic on Tuesday, January 25, 2022 at 1:28 PM
By Goran Todorovic / January 25, 2022
Comment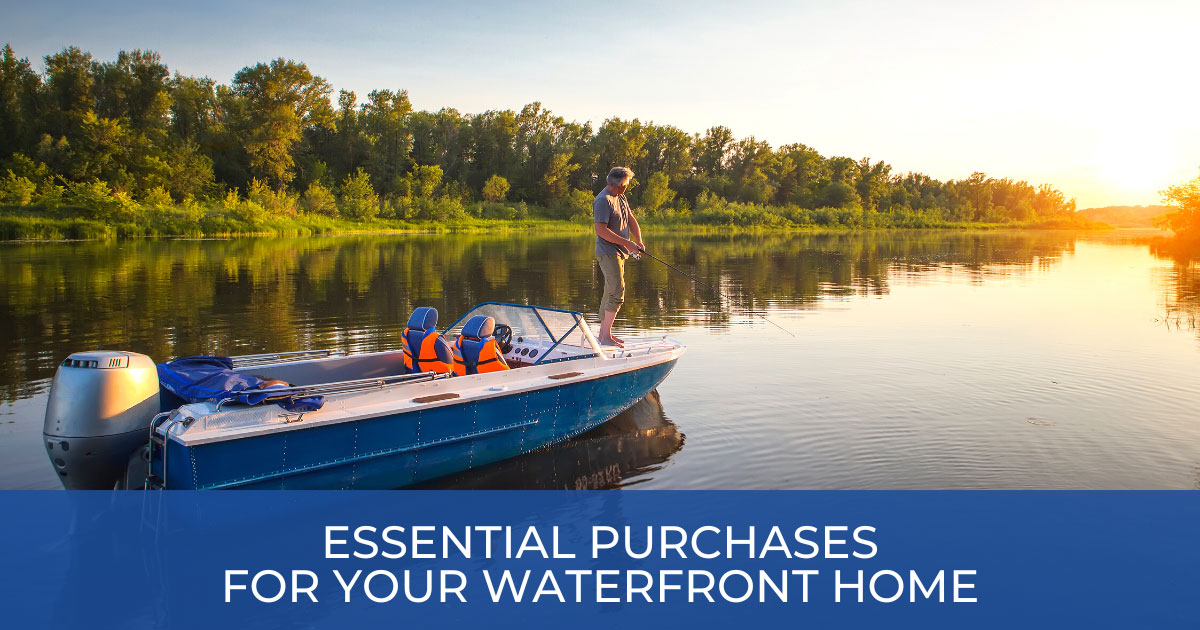 There are numerous reasons for buying a waterfront home, not the least of which might be a premium view. However, to make the most of upscale lakeside or riverfront property, buyers should perhaps consider the additional purchases and amenities that can truly elevate such a home to the status of a full-time "vacation-oriented retreat." Keep reading to discover some of the best purchases for a waterfront home.
Look Into Buying a Boat
Although a water view can be soothing, mesmerizing, dramatic, and awe-inspiring, no matter what the season, there is nothing like spending time "on the water" when the weather is warm and conditions are right. One of the advantages of living close to the water, of course, is the ability to cast aside your everyday concerns when the mood strikes, and there's no better way to do that than to cast off the lines and leave your cares behind as you set sail. Boat ownership, however, is an ongoing responsibility, and not all waterfront property is ideally suited for all types of boats. Before you jump into boat ownership and don that captain's hat, consider the following:
Boats and watercraft are available in all shapes and sizes, and there is a huge difference between a single-person sailboat and a sleep-aboard power craft. It may also be that a canoe or kayak, a windsurf board, or a ski-doo will suit your recreational desires. Keep an open mind and investigate your options before deciding on the best boat for your individual needs.
Check zoning and subdivision restrictions and requirements to see what size and type of vessels and watercraft are authorized.
Choose the size and type of craft to suit your needs, preferences, and ability to handle the kind of vessel you select. Also, consider the training and safety requirements that might be associated.
Ensure that dockage and storage are adequate and suitable for your boat and other water toys.
Check on usage rules, insurance requirements, damage waivers, and get answers to all your financial and legal concerns before you commit, particularly if you will be required to install a dock or ramp on or adjacent to your property.
Many homebuyers looking at waterfront properties are interested in boating, so this is a common question to ask before buying a waterfront property. Your local real estate agent is likely to be familiar with the local regulations and answer any questions you may have.
Get Geared Up for Fishing
Any angler will no doubt be able to recount the unequalled pleasure derived from spending a day on the water, whether lazily drifting or actively pursuing that dream catch. If you're an avid enthusiast, you should, by all means, indulge your passion and find proper gear so that you can fish any time you please, whether it's from your own shore, your own boat, or a public ramp or legendary "fishing hole" nearby. Talk to local guides and local veterans of the sport to determine what kind of fishing is most popular in the area.
Taking up fishing is a natural choice if you live on or near water. But, as with boats, there are many types of fishing. Casting a line from the shore requires different skills and equipment than are needed if you fish while trolling. Lake fishing differs greatly from river fishing, and salt-water fishing is a different sport entirely.
If you purchased your waterfront property with fishing in mind, chances are you already know the basics. What remains, then, is for you to ensure that you have the licenses, rods and reels, lures, lines, bobbers, tools, and associated equipment that you'll need. If you're a newcomer to the area, the best way to begin is to search out a fishing club or marina and ask for advice. You're sure to find local anglers willing to educate you.
Optimize the View with Glass Doors and Large Windows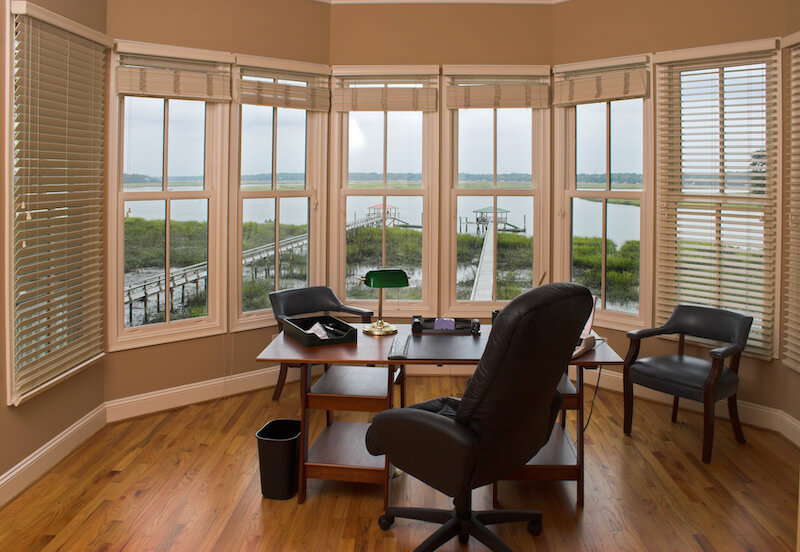 This may sound like a given—you wouldn't be looking for a home with the best water views if you had no intention of gazing at the water. But, if your new home currently doesn't take full advantage of the view that's available, there are some steps you can take to maximize the impact.
Assess both your home's orientation and its interior. If you have a wooded lot, don't hesitate to trim or even cut an existing tree or two to better frame a stunning view. If your windows are too small to capture a dramatic vista, or if exterior doors inhibit a broader view of the water, consider enlarging existing windows or installing glass doors to expand your vistas. Work with an imaginative team, including an architect or home designer, interior designer, and a builder or remodeler, so that your waterfront home can truly become the showplace that you envision.
Think about adding an expansive deck to enhance your outdoor view further or searching for a home with a sundeck. With modern materials, including glass-panel railings, you can be assured that the view will remain the focus of both the indoor and outdoor living spaces at your waterfront home.
Create Outdoor Living Spaces
It's entirely true that dream homes never simply spring unaided out of the ground. They require innovative design and extensive planning. Homes with outdoor living spaces that capture the views and offer multi-season appeal are as artistic as they are functional. Use landscaping and hardscape features like stone walls, paved walkways, and expansive decks or balconies to define spaces, and focus on the view-filled sightlines to create an illusion of more space and a distant horizon.
Create varied spots for people to gather—a patio with an adjacent garden dining area, a shaded sitting room with comfortable lounges, or a "boathouse" party pavilion that allows you and your guests to dip your toes in the water and enjoy the sunset are all fantastic ideas.
Your options are limited only by the configuration of your lot and the extent of your imagination. Create a wish list and craft a plan to shape your backyard oasis in phases. Achieving your dream might take some time, but the result is sure to be worth the wait!
Design the Perfect Waterfront Home
Buying a home with a view and water access can represent the best of all possible worlds: an enviable "vacation retreat" that you'll be delighted to enjoy every day! A knowledgeable real estate professional is often your best ally as you embark on a search for waterfront property.