Choosing a Home Builder: Essential Qualities to Look For
Posted by Goran Todorovic on Thursday, March 23, 2023 at 2:00 PM
By Goran Todorovic / March 23, 2023
Comment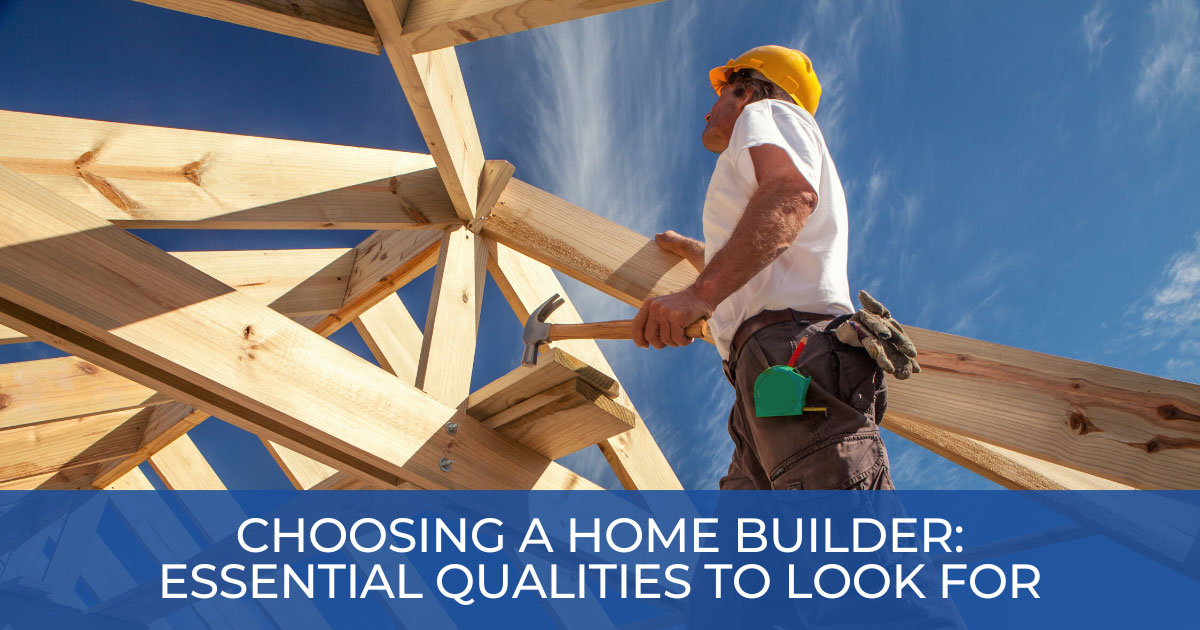 Homebuyers often prefer new over existing home units for many reasons. Everything is perfectly fresh with new construction homes, so there aren't any immediate repair or maintenance costs. These homes are often more energy-efficient and can be customized to include the latest technology in smart homes.
But there are several things to think through before spending money on a new construction home, such as choosing the right home builder. If you've been considering custom-built options, read on to learn what to look for when choosing a new construction home builder.
Figure Out What Kind of Builder You'll Need
As you may have guessed, not all builders are the same, so before you find a builder, you need to know what you want out of your new home. Do you want a completely custom home or just a few modifications made to a pre-existing blueprint? Or do you not want any modifications at all? The type of home you want will influence the type of builder you need. There are three main types of home builders:
Fully Custom Home Builders: These builders work with the buyers to create a blueprint from scratch that is completely unique.
Semi-Custom Home Builders: These builders typically have a portfolio of blueprints that they can adjust to better suit their buyer's needs.
Production Home Builders: These builders are typically national brands that build out entire neighbourhoods. They have pre-established options that buyers may be able to choose from, but they typically won't do any customization.
Each type of builder will have its own pros and cons, as well as estimated prices. Once you know which type of build you're interested in, you can start looking into builders who specialize in that type of construction.
Start The Search Locally
While there are certainly perks to working with a national builder, a local home builder is the best bet for a new construction home. Local builders are often aware of zoning restrictions and building codes in the area, so they can advise on required permits and how to secure them quickly.
Since they're active community members, local builders usually have relationships with other reputable architects, suppliers, and home designers in the area. That means they can offer recommendations and save buyers the search. Because they've completed projects in the area, they're also aware of new construction home trends and can advise on the best floor plans and designs, so the resulting property is up-to-date and valuable.
Even better, they can be reached whenever needed and it's easy to find out about their reputation. Choosing a home builder locally also affords more involvement in the process and better control over the budget.
Ask for local home builder recommendations from friends, family, and code inspectors, or contact the local home builders association for a list of professionals in the area.
Choose a Builder Who's Invested in the Same Idea
A home isn't just a significant investment; it directly affects an owner's comfort and happiness. And since a builder has a vital role in turning a dream home into reality, it's essential to only choose one who's invested in the same plan. Select a few home builders from the recommendations received earlier, and then research them to gauge their experience.
Narrow down the list using factors such as whether they're insured or whether they offer a warranty. Buyers can review their websites, check online reviews, or, if possible, directly contact their past clients for helpful information during research. Contact and interview the remaining candidates on the list, and be sure to ask as many questions as possible, including:
How much customization do they allow?
What the contract includes
Will you involve my architect and interior designer?
Whether they can meet the schedule
While at it, remember this will probably be one of the buyer's most significant investments, so they should vet as many builders as they find suitable and ask as many questions as possible. A good home builder should answer such questions as thoroughly as possible and even offer a tour of their past projects.
The More Transparent, the Better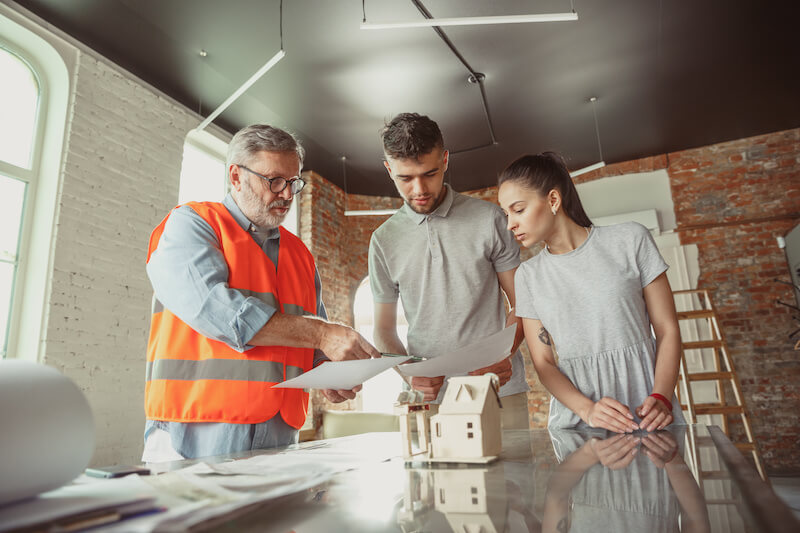 If a builder is local and answers questions clearly and professionally, the buyer is on the right track. But if they're also transparent about their home-building projects, the buyer is onto a winner. A builder who is open to or invites third-party inspections during the project cares more about having a quality outcome than just finishing it.
These inspections eliminate issues that would otherwise become long-term problems, such as improper insulation. Besides being open to inspections, reputable home builders will often have no issue breaking down their workflows to help the buyer gain insight into the project. Some will even use 3D home design software and other online tools to help them understand the project better.
A good home builder is honest about all the terms included in the contract and will have insured themselves and their team to protect clients from liability. The buyer will be working with their home builder for a long time. So the more transparent they are, the better for everyone involved. If a potential builder is being vague about factors like price, project duration, and insurance, or refuses third-party inspections, steer clear of them.
Choose Quality Over Quantity
Building materials are the thin line between a long-lasting construction home and one that loses its structural integrity in a few years, leaving the homeowner knee-deep in repair expenses. For instance, a house built using low-quality insulation loses heat, which leads to disrupted comfort and increasing energy bills.
Additionally, low-quality wood leaves a house susceptible to mould infestation, which is expensive to remove and a health hazard. If a home is built using builder-grade materials for the roof, it cannot deliver water-tight protection and requires regular maintenance or even replacement sooner than expected. Unfortunately, some builders will often use poor-quality materials to cut project costs and increase their profits despite knowing this.
That is why buyers must ensure a home builder they're considering is invested in using quality materials for their projects. If they cannot use the materials the buyer wants for their home, they're better off looking elsewhere than settling for substandard. While vetting potential home builders, resist the urge to gauge a builder's experience based on the size of their new construction homes project portfolio, as the quality matters more than the number of homes they've completed.
Choose a Reputable Home Builder for a Quality New Construction Home
Building a new construction home is one of the best decisions you'll make. You get the chance to include the touches you've always wanted, and you're also the first person ever to occupy it. Even better, you need not worry about maintenance in the near future. But, while it's exciting, ensure you choose a reputable home builder as they're the key to getting everything done on time and budget while ensuring your expectations are met.