Dogs Love Living in Windsor: Best Windsor Dog Parks, Pet-Friendly Restaurants & Shops
Posted by Goran Todorovic on Thursday, April 20, 2023 at 11:18:23 AM
By Goran Todorovic / April 20, 2023
Comment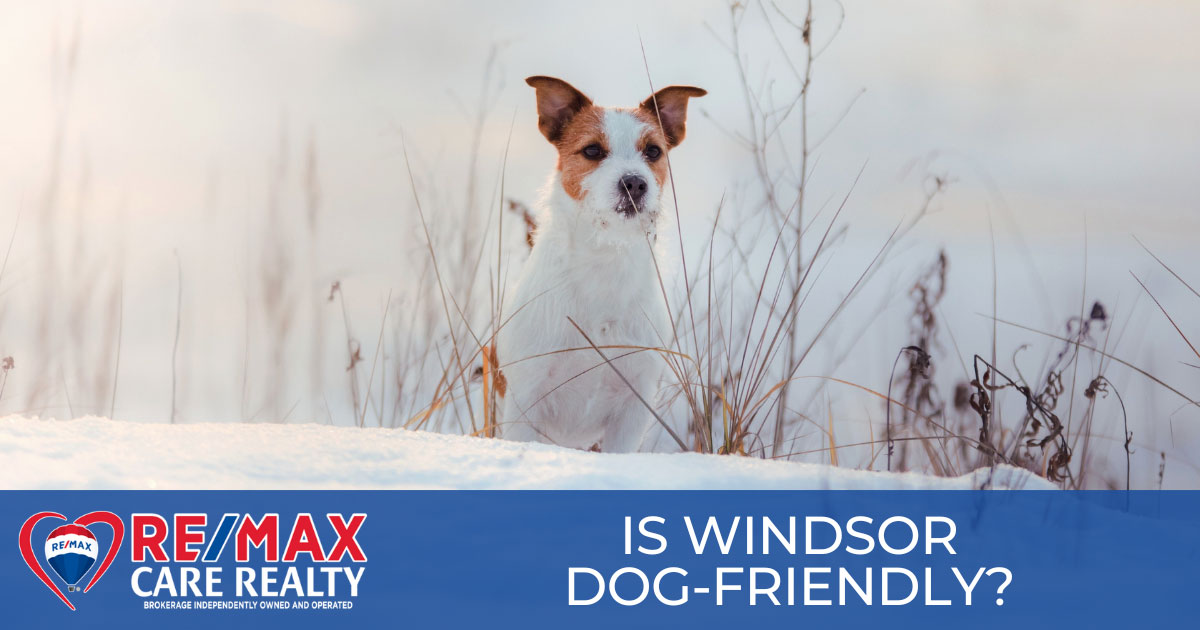 The city of Windsor, ON, is very welcoming to dogs and their owners. Even people living in Windsor condos along the Detroit River have plenty of dog-friendly places and activities to participate in, including several city dog parks. Folks who like to keep their dogs with them at all times will find pet-friendly restaurants with patio dining and even a few stores and shopping excursions where leashed dogs are welcomed. For dog owners considering moving to Windsor, here are some reasons they will love the city.
Best Neighbourhood Dog Parks in Windsor
For many dog owners, having an outdoor space where their beloved pets can run around off-leash is essential. It's also a great way for animals to socialize and play with others, and for owners to meet new people. There are several neighbourhood dog parks available in Windsor to fill this need. Here are three local favourites.
Ford Test Track Dog Park
The Ford Test Track Dog Park is located in the East Windsor neighbourhood. This fenced-in dog park is part of the much larger 24-hectare site of the former Ford Motor Company of Canada's Test Track. Today, the site has 18 grassy soccer fields for competitive play and a walking and running track. The dog park has separate areas for large and small dogs, with double-gated entrances for safety. It is free to park in the large parking lot off Seminole Street, and the dog park is right next to the west end of the lot.
Some nice walking trails surround the Ford Test Track Park, but dogs must be leashed in those areas. An adult can bring up to three dogs to the dog park if they are older than four months. A collar, current tags, and up-to-date vaccinations are required for all pets entering the dog park.
Ford Test Track Dog Park Additional Information
Address: Seminole at Chandler Road, Windsor, ON
Hours: Sunrise to sunset
Malden Dog Park
The Malden Dog Park is on the city's west side in the Malden neighbourhood, and it's near the Yawkey neighbourhood and the South Cameron area. It is located inside the much larger Malden Park, which is about 71 hectares in size. The dog park is difficult to see from Malden Road, but it's visible on the right-hand side as soon as you enter the park. The area for dogs is fenced-in and provides plenty of space to run around.
Being one of Windsor's best parks, the rest of Malden Park is worth walking through after a dog park visit. Wooded areas and trails for cycling and walking surround Malden Pond. It does take a little bit of a climb to the top of Malden Hill in the park, but it's not a long-distance hike.
Malden Dog Park Additional Information
Address: 4200 Malden Road, Windsor, ON
Hours: Sunrise to sunset
Optimist Memorial Dog Park
Optimist Memorial Dog Park is located close to homes in South Walkerville and the Remington Park neighbourhood. It is inside the 20-hectare Frank L. Mallory Memorial Park. Drive into the park from the entrance on Ypres Avenue to find the dog park, which has separate fenced-in areas for large and small dogs and double-gated entrances.
Memorial Park is a pretty site with many mature oak trees, walnut, maple, red cedar, hickory, and many other types of trees. Enjoying the relaxing walking trails through the trees is another fun activity with leashed pets after a trip to the dog park. There is also a large children's play unit in the park, a toboggan hill for winter use, a baseball field, a cricket pitch, and picnic tables.
Optimist Memorial Dog Park Additional Information
Address: 1075 Ypres Avenue, Windsor, ON
Hours: Sunrise to sunset
Dog-Friendly Activities in Windsor
There are many things to see and do along the Riverfront Trail in Windsor. This paved trail system is among the best hiking paths in Windsor and follows the Detroit River for several kilometres; leashed dogs are welcome anywhere along the trails and at many outdoor attractions. It's a pretty place to walk and view the river, the Detroit skyline, and some waterfront homes. Stop by Windsor Sculpture Park and check out the dozens of significant modern works of art. The Bert Weeks Memorial Gardens and the Joan and Cliff Hatch Wildflower Garden are beautiful sites along the trail during the summer months.
For those who want to find a dog-friendly beach in Chatham-Kent, two options are just over an hour's drive southeast of Windsor. Erieau Public Beach and Rondeau Provincial Park have sandy beaches where leashed dogs are welcome. Both are on the shores of Lake Erie, near the town of Blenheim. Dogs do have to stay on a leash during visits. Also, note that this part of Lake Erie can experience some large waves (for a lake), so take that and the weather into account before allowing a pet to go for a swim.
Dog-Friendly Restaurants in Windsor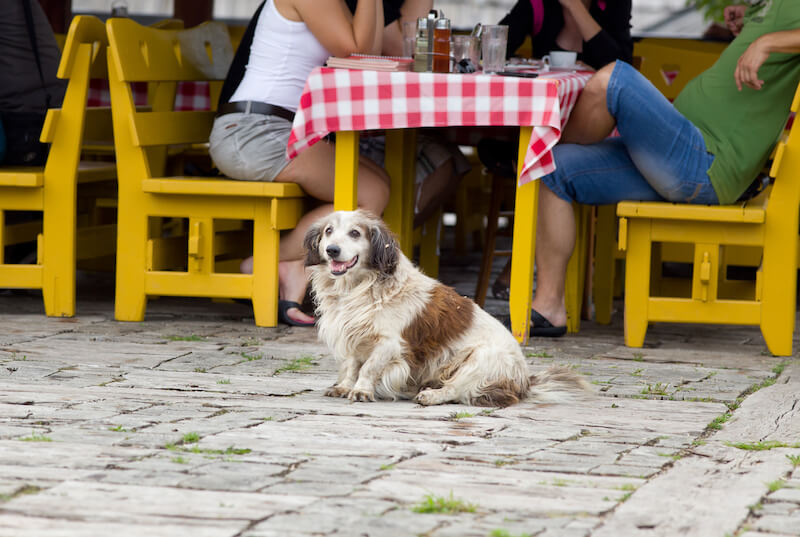 Here are some restaurants, breweries and taphouses in Windsor with outdoor seating, where leashed pets are welcome.
Phog Lounge on University Avenue West has live music from local bands almost every night of the week. The jam sessions happen inside, but there are picnic tables in the back parking lot where food and drinks are available, and leashed pets are welcome.
The Chapter Two Brewing Company is on Edna Street in the Walkerville neighbourhood of Windsor. They have an outdoor patio and provide water bowls for people who bring their dogs along for a bite and a pint. Chapter Two has a vast selection of craft beers on tap. The menu includes excellent pub foods like fish and chips and BBQ sandwiches.
The Frank Brewing Company can be found on Tecumseh Road on the east side of Windsor. It has an outdoor patio with picnic tables where dogs are welcome, and there's a grassy area next to the patio. They serve beer, great sandwiches and pizza. Frank's also has an excellent appetizer menu for those who don't want a full meal (try the Sheet Pan Nachos). For dogs, they provide water bowls and treats.
Located in the Sandwich neighbourhood near the river, the Sandwich Brewing Company has an outdoor patio where dogs are welcome. They provide water bowls and treats made from the brewery's spent grains. Fish and chips are always on the menu, and those who want to leave the dog at home can sign up for Pints and Poses—a yoga class and a pint for $20.
Dog-Friendly Shopping in Windsor
For those who want to bring their dog along for a shopping excursion, there are several shops and venues in Windsor where this is allowed. However, dogs must be leashed and controlled at all times in these places.
Windsor Crossing Premium Outlets is an outdoor shopping mall with around 40 retailers. There are 18 apparel shops, a couple of shoe stores, and other recognized international chain stores. Many shops allow leashed dogs inside, but ask at the door first. This mall is near the 401 Freeway and Talbot Road near the Roseland neighbourhood.
The Amherstburg Farmers Market makes for a nice Saturday outing. The market is about a 30-minute drive south of Windsor, in the GL Heritage Brewing Company parking lot in the town of Amherstburg. This farmers market occurs every Saturday from 8:30 a.m.–1:30 p.m. It features live music and fresh produce from local farms on the peninsula. Browse the market with a leashed dog in the morning, and stay for lunch on the brewery's dog-friendly patio!
For Your Fur Kids is a pet store with two locations in the Windsor area. It's a great place to shop for dog food, treats, supplements and other products (for cats too). They offer dog and cat grooming, and leashed pets are always welcome inside the store.
Book lovers can stop by Biblioasis on Wyandotte Street to browse some titles. They allow dogs in the store with their owners.
Pet-Friendly Lodging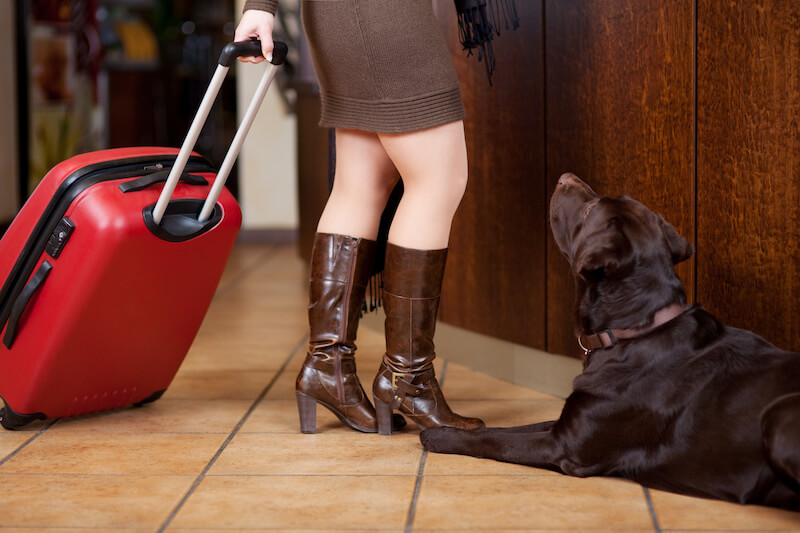 Windsor has many pet-friendly hotels, so anyone visiting the city won't have to leave their dog behind. Here are just a few of the options available.
The Quality Inn and Suites Downtown is not far from the Detroit-Windsor Tunnel. No exotic pets are allowed, but they allow one dog or cat per room for a $45 per night fee. Dogs must weigh 30 pounds or less to stay in the room with their owners.
The Comfort Inn in South Windsor is pet-friendly. They allow one small pet per room (dog or cat) for an added room fee of $20 per night.
The Hampton Inn and Suites by Hilton Windsor is south of the Ambassador Bridge. They allow up to one pet that weighs no more than 20 pounds and charge a non-refundable cleaning fee of $50.
The Holiday Inn Hotel & Suites Windsor (Ambassador Bridge) allows up to two pets (dogs or cats, no weight limit) to stay in a room with their owners. The pet fee is $20 per day, or people can stay for five days for a $50 pet fee.
Dogs & Their Owners Are Welcome in Windsor, ON!
Windsor is the southernmost large city in Canada, so its warmer winter climate is much easier for dogs to adjust to. This beautiful riverfront city welcomes dogs and other types of pets, and many of the great dog-friendly amenities can be found in the best neighbourhoods in Windsor. Exploring Windsor will uncover even more opportunities and things to do with a four-legged friend.
If you're looking for your Windsor dream home, contact Team Goran of RE/MAX CARE Realty at (519) 979-9949 to get in touch with a Windsor real estate agent who can help find the perfect place for you.