Affordable Homes in Southern Ontario: 8 Least Expensive Cities to Live in Southern Ontario
Posted by Goran Todorovic on Monday, April 17, 2023 at 2:43:32 PM
By Goran Todorovic / April 17, 2023
Comment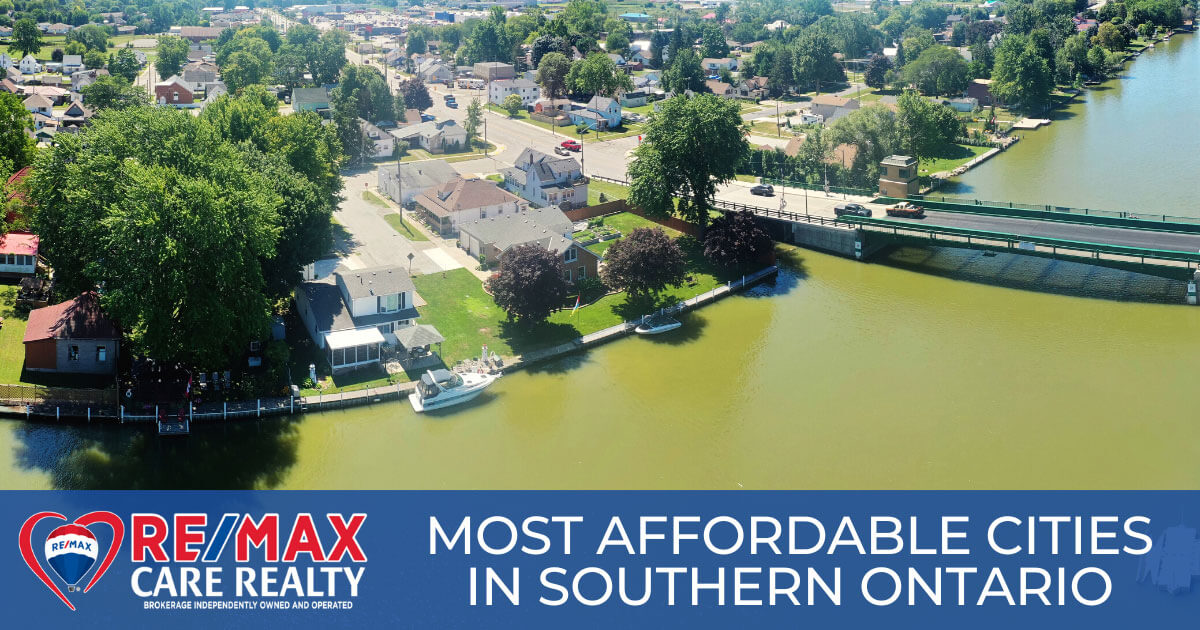 Looking for an affordable place to buy a home? Southern Ontario might have exactly what you're looking for. The region borders the U.S., starting from the city of Windsor on the Detroit River and spans all the way up to the Greater Toronto Area. If you're searching for cheaper houses, real estate in Essex County and Chatham-Kent County provide highly affordable alternatives to the sky-high prices closer to Toronto.
Set between Lake Erie and Lake St. Clair, this region is ideal for laying down roots while staying within your budget. So read on as we explore eight of the best affordable cities in the beautiful and quickly growing Southern Ontario area.
Tilbury
Tilbury calls itself "The Light Between the Lakes," a recognition of the ideal location of this affordable community. Both Lake St. Clair and Lake Erie are just a few minutes away, perfect for those who love to boat, fish, swim, or relax on these beautiful beaches. At the same time, Windsor and the border crossing to Detroit are also an easy drive of fewer than 60 kilometres west, making it possible to enjoy big city amenities and jobs while coming home to a quiet small town.
Homes in Tilbury are almost exclusively single-family detached homes, ranging from modest older houses to sprawling new construction properties. While some can reach as high as the $700,000–800,000 range, most can be found from the high $200s to around $500,000.
Residents can even head just outside town to enjoy a rare drive-in movie at The Boonies Drive-In Theatre. Still, there's plenty to do within Tilbury itself, like grabbing a bite to eat at local favourites like Rose's Family Restaurant. While most of the area surrounding the town is agricultural, it's also home to numerous parks, conservation areas, and Tilbury Golf Club.
Tilbury Amenities
Convenient to Lake St. Clair and Lake Erie
Tilbury Arena
Tilbury Golf Club
Highway 401 access
Chatham-Kent Public Library - Tilbury Branch
Windsor
The biggest city in the Essex County region, Windsor, sits along the Detroit River, the international border with the United States. Dating back over two centuries, the historic town still offers everything modern buyers expect from a city of more than 220,000 residents, from plentiful jobs to extensive shopping and quality healthcare providers.
Like many larger cities, Windsor offers a broader diversity of housing choices, with plentiful single-family homes, townhouses, and condos. Windsor's most affordable homes start just under $200,000 for less recent two- or three-bedroom properties, while condos start from the mid-$200s. Plentiful options are available for less than half a million, while vacant land and lots start under $100,000.
Residents can also enjoy a bustling downtown district near the river along Ouellette Avenue, packed with restaurants, nightlife, and even entertainment venues like Capitol Theatre Windsor. This area also includes ample green space along the Detroit River, with kilometres of trails, amazing views, and spaces for community events. The city is also home to the University of Windsor and St. Clair College's Windsor Campus for those looking to pursue higher education and Windsor International Airport for easy travel around the country and the world. Plus, everything Detroit offers is just a short trip away, as are the incredible waterfront communities on the two lakes within a quick drive.
Windsor Amenities
Border crossing to Detroit
Riverfront parks/green space
Malden Park
Sand Point Beach
WFCU Centre
Windsor International Airport
Devonshire Mall
University of Windsor
Blenheim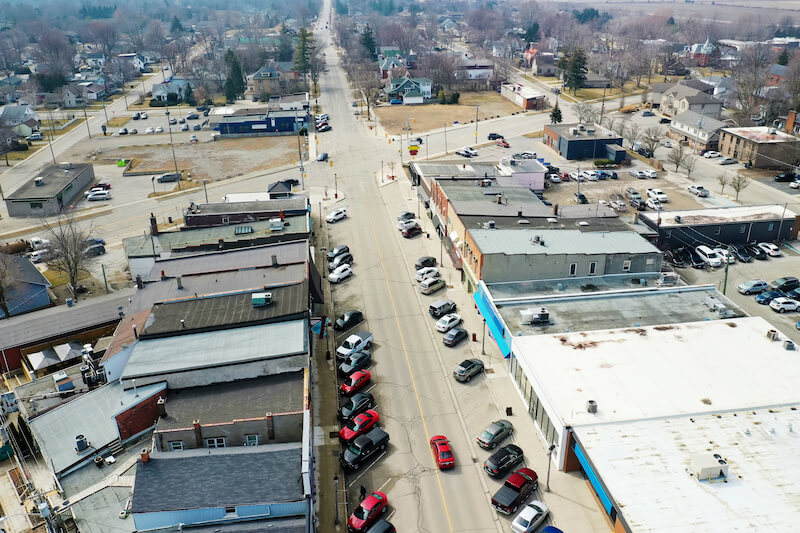 The small community of Blenheim is set along the historic Talbot Trail/Highway 3, with a charming town center spread near the intersection of Highway 3, Talbot Street, and Chatham Street. These blocks include highlights like the Talbot Trail Place park, numerous restaurants like Jack's Family Restaurant and Venus De Milo, and unique local shops. It's also just a short drive from several Lake Erie communities like Shrewsbury and Erieau, perfect for a day trip to get out on the water. Chatham is similarly close in the opposite direction. Blenheim also has numerous events, ranging from classic car shows to the town's annual Cherry Festival and Sidewalk Days.
Those looking to buy homes in Blenheim will find exclusively single-family detached properties, some starting as low as the mid-$100s. Typical properties can be found from the $300s and up, topping out around $700,000. Lots close to the center of town also sell in the $100s.
Blenheim Amenities
Blenheim Memorial Arena
Talbot Trail Place
Kinsman Park
Gable Rees Rotary Pool
Willow Ridge Golf & Country Club
Blenheim Freedom Library & Military Museum
Highway 3 access
Tecumseh
Those looking for a combination of city convenience and access to the region's amazing lakes and natural spaces should check out Tecumseh. It's located just to the east of Windsor, putting the city's jobs, restaurants, shopping, and U.S. border just minutes away. It's also adjacent to Windsor International Airport, making it simple for frequent travellers to take trips around the country or the world.
Most Tecumseh homes are single-family detached properties, though buyers may also find condos for sale in the town's more developed northern neighbourhoods. Houses start as low as the mid-$300s for more modestly sized, typically two-bedroom options. Most can be found from around half a million to $800,000, though luxury real estate is also available.
One of Tecumseh's other biggest advantages lies at its northern end, with more than 4 kilometres of Lake St. Clair waterfront. Residents can enjoy it at Lakewood Beach, part of the larger Lakewood Park complex. It hosts community events and includes walking trails, fitness equipment, gazebos, and even a disc golf course. This is just a small portion of the ample green space at Tecumseh's numerous parks and trails, including the lakefront Gatantchio Trail and the region-wide Chrysler Canada Greenway. Plenty of convenient places exist to shop, eat, and take care of everyday errands, particularly in the more developed areas near Tecumseh and Manning Road.
Tecumseh Amenities
Lakewood Park and Beach
Lacasse Park
Green Valley Plaza and St. Clair Beach shopping centres
Essex County Library - Tecumseh Branch
Beach Grove Golf and Country Club
Chrysler Canada Greenway access
Essex
Set along Highway 3 midway between Lake Erie and Lake St. Clair, Essex Centre is a charming, centrally located community anchored by a strip of shops and local restaurants like the Original Michigan Diner. This walkable downtown is close to green spaces like Sadler's Pond Nature Park, community centres, and much of the area's housing.
Homebuyers will find a diverse mix of single-family detached homes throughout Essex's communities and rural areas. While lakefront or sprawling country properties can reach nearly $2 million, most sell for $800,000 or less. In fact, many homes for sale in Essex can be found from the mid-$300s to around $630,000.
The municipality includes not only the city of Essex itself but a vast area stretching all the way south to Colchester on the shores of Lake Erie. This latter area includes the gorgeous and locally loved Colchester Beach and Harbour, one of the best spots in Essex County to swim, boat, or enjoy lake views. In addition, smaller agricultural communities like Harrow and McGregor offer rural agricultural and bedroom communities close to the area's larger settlements and amenities.
Essex Amenities
Sadler's Pond Nature Park
Colchester Harbour and Beach
Essex Centre Sports Complex
Cypher Systems Group Greenway, Chrysler Canada Greenway access
Numerous golf courses
Convenient to Highway 3
Wallaceburg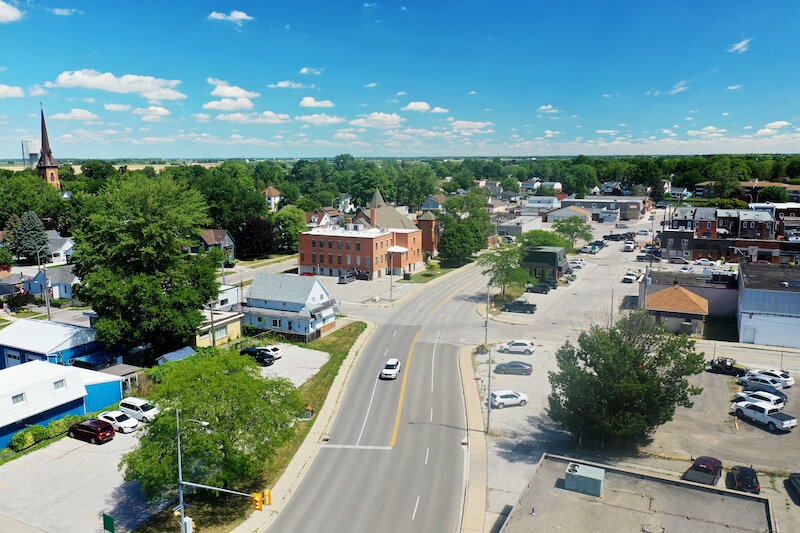 The inviting small town of Wallaceburg, set along the Sydenham River not far northeast of Lake St. Clair, has a tremendous amount to offer homebuyers. For starters, the walkable riverfront downtown has the amenities of a far bigger city, from numerous delicious restaurants and local shops to cultural spots like the Wallaceburg Museum.
Despite Wallaceburg's smaller size, future residents can choose between a mix of detached houses and low-rise condos. The latter is the most affordable, regularly listing for less than $200,000. Homes for sale in Wallaceburg start in the high $200s and top out under $500s. Homesites and vacant lots can also be found for less than $100,000.
Wallaceburg also hosts one of the region's most beloved community events, the Wallaceburg Antique Motor and Boat Outing, better known as WAMBO. The antique vehicle show draws thousands to the town every August. In addition, it's an excellent choice for lovers of the outdoors, with extensive hiking and fishing options within a short drive of town. Meanwhile, Wallaceburg's convenient location along Highway 40 makes trips into Chatham or Sarnia quick and easy.
Wallaceburg Amenities
Wallaceburg Memorial Arena
Crothers Conservation Area
Steinhoff Park
Glen Mickle Park
Convenient to Highway 40
Chatham-Kent Health Alliance - Wallaceburg Site
Belle River
Part of the sprawling Lakeshore community east of Windsor, Belle River offers one of the best waterfront spots on Lake St. Clair for homebuyers looking for affordable options. Belle River real estate comprises single-family detached homes, supplemented by a few townhouse developments. More modestly sized three-bedroom homes start under half a million dollars. Typical Belle River properties with three to five bedrooms start around $600,000, reaching around $900,000 on the high end.
Lakeview Park West Beach is known as one of the best beaches near Windsor, while Belle River Marina is a favourite among boaters. But Belle River also has plenty to do on land, including a thriving collection of shops, restaurants, and community parks spread throughout various neighbourhoods. It's hard to believe this lakefront oasis is still only 30 kilometres from the heart of Windsor, an easy (and beautiful) drive for regular commuters or those looking for a day out in the city. Lakeshore's other nearby communities, like Emeryville, also provide plenty of amenities for Belle River residents.
Belle River Amenities
Lakeview Park West Beach
Belle River Marina
Active shopping/restaurant scene
Ladouceur-Lions Park
Optimist Park
Stuart Lakefront Parkette
Comber
The oldest settlement in the larger municipality of Lakeshore, Comber was founded in the late 1840s and continues to offer a top place to call home in southern Ontario. Comber's smaller size can make homes less frequently available, but would-be buyers will find various single-family detached homes for sale, including new construction properties. The least expensive homes for sale in Comber start at around $400,000, with options available into the high six figures. Spacious, brand-new homes can be found as affordably as the $800,000–900,000 range.
It's the site of the regionally famous Comber Fair, held each summer since 1859, connecting residents with the region's farming and manufacturing heritage. This quiet small town is also an excellent choice for the rest of the year, as it provides some of the area's most convenient access to green spaces and conservation areas, as well as both Lake St. Clair and Lake Erie. Residents can also exercise or participate in town events at the Comber Community Centre or shop at various local and chain businesses along Comber's Main Street. Tilbury, Leamington, and other unique Ontario small towns are nearby.
Comber Amenities
Comber Community Centre
Big O Conservation Area
Rowsom's Tilbury West Conservation Area
Comber Museum
Access to Highway 401/Macdonald-Cartier Freeway
Amazing Homes Won't Break the Bank in These Southern Ontario Towns
Whether you're moving to Windsor or living in Chatham-Kent, owning a home doesn't have to be out of reach. That's particularly in these eight desirable communities. With a combination of excellent value for money and high quality of life, there's something for every would-be buyer in these diverse towns and cities.
If you're ready to move to Essex County, contact Team Goran of RE/MAX CARE Realty at (519) 979-9949 to reach a local real estate agent who can help find your dream Essex County home.