Find Luxury Real Estate Near Chatham-Kent: 5 Most Expensive Chatham-Kent Towns
Posted by Goran Todorovic on Monday, January 9, 2023 at 4:14:03 PM
By Goran Todorovic / January 9, 2023
Comment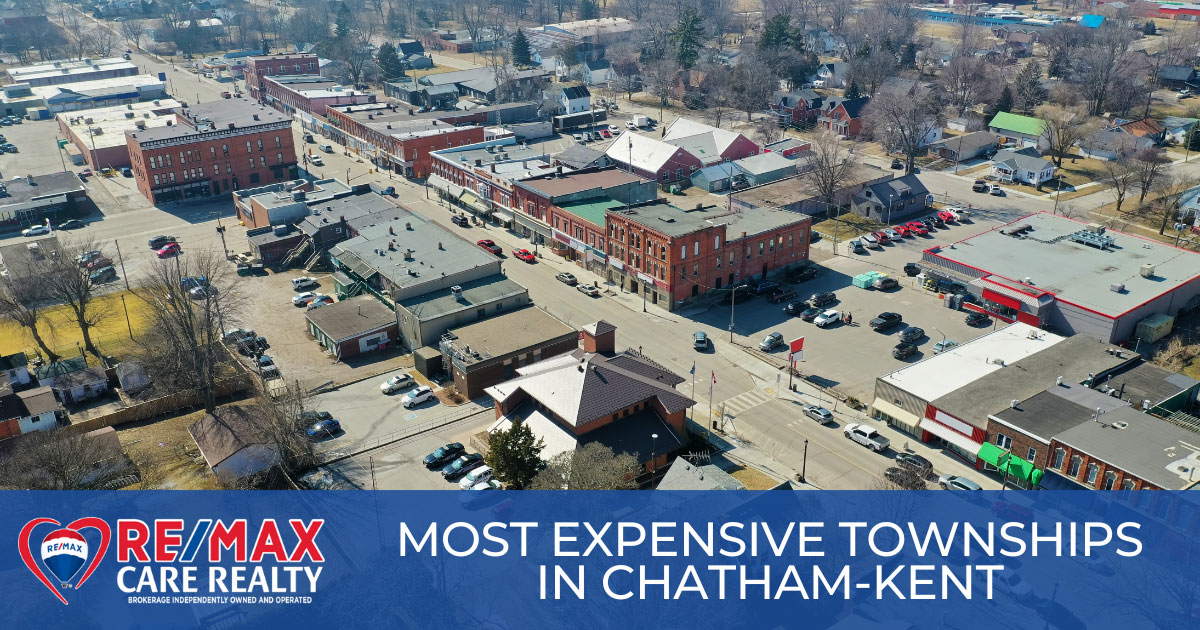 It may not be the best-known part of Ontario, but Chatham-Kent is undoubtedly one of the province's most desirable and expensive areas. Located roughly an hour from both London and Windsor, it's known as the "classic car capital of Canada" due to the region's automaking heritage. The area is also popular for its numerous beaches and other spots for lakefront fun, so living in Chatham-Kent is great for water lovers looking to soak up the summer sun. But where should big-budget homebuyers be looking if they're setting down roots in Chatham-Kent. Check out the top five places to buy a luxury home throughout Chatham-Kent below.
Chatham
As the largest and most developed township of Chatham-Kent, the community of Chatham offers a bustling small town with a mix of fun and convenience. Chatham's downtown is set along the Thames River, home to a diverse group of restaurants and nightlife spots along King Street. These include old-school Italian at Mamma Maria's Ristorante, steaks and seafood at The Chilled Cork, and drinks and bar food at Elephant's Nest Pub.
Residents can stroll this historic area and indulge in a bit of shopping at the Downtown Chatham Centre or catch a show at the Chatham Capitol Theatre. Those looking to get outdoors can also enjoy numerous community parks, most notably the riverfront Tecumseh Park, which offers walking trails, sports facilities, and public green space.
Most of Chatham's housing comprises single-family detached properties, ranging from ornate, historic homes to stylish, modern new-construction homes. While homebuyers can find a limited number of condos and smaller, less recently built properties from the $200s, most homes for sale in Chatham list from the mid-$300s to the mid-$700s. However, Chatham's luxury homes are priced from $1 million.
Chatham Amenities
Downtown Chatham Centre
Tecumseh Park
Chatham Capitol Theatre
Chatham Memorial Arena
Chatham-Kent Health Alliance - Chatham Campus
Cascades Casino Chatham
St. Clair College - Chatham Campus
Blenheim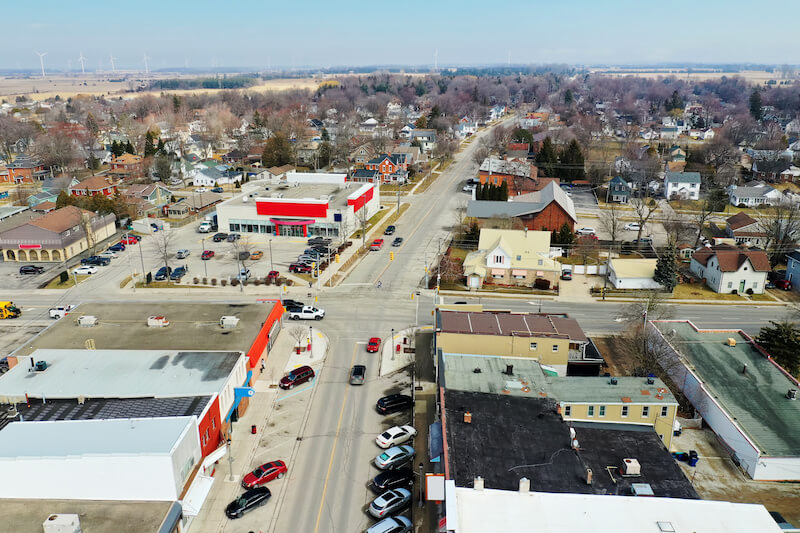 Blenheim began life in the mid-19th century as a timber and farming town. While it's retained its delightful small-town character, today, Blenheim prides itself on its diverse selection of local shops and boutiques, many located around the town's central area along Chatham, Talbot, and Marlborough Streets. Nearby, popular parks and town services are just steps from homes, like Talbot Trail Place and the all-season, public indoor Gable Rees Rotary Pool. In addition, the town hosts several popular local events that draw residents and visitors from around Chatham-Kent, like the annual Cherryfest and Classic Auto Show.
Blenheim is also an excellent community for those who want to enjoy nearby Lake Erie, less than half an hour away from spots like Rondeau Provincial Park or the quaint fishing village of Erieau.
Blenheim offers primarily single-family detached homes ranging from two to five bedrooms. Older and more modestly-sized homes for sale in Blenheim list from the $400s. However, some homes can reach the $1 million range, particularly for new-construction houses with high-end interior finishes. Further from the township center, sprawling country estates can be found on large, multi-acre lots.
Blenheim Amenities
Downtown shopping/dining district
Talbot Trail Place
Blenheim Memorial Arena
Gable Rees Rotary Pool
Willow Ridge Golf & Country Club
Rondeau Rod and Gun Club
Ridgetown
Ridgetown's motto makes no secret what the township is best known for: "agriculture at its best." The town sits on an elevated stretch of land that gives it its name, less than 10 kilometres from Lake Erie and under an hour from London to the northeast. Farming, manufacturing, and various industrial trades play the most significant roles in the local economy, as do manufacturing and similar industrial trades.
Residents also enjoy a quaint, compact downtown, home to restaurants like Yeck's Smokehouse Grill, conveniently located everyday shopping, and the Ridgetown campus of the University of Guelph. Those looking to enjoy the beautiful Ontario scenery can play a round at Ridgetown Golf and Country Club or take the short drive southeast to one of the popular Lake Erie recreation areas.
Homes in Ridgetown are almost entirely single-family detached homes, often large properties with four or five bedrooms. Ridgetown also has a share of Chatham-Kent's new construction homes for sale, and some of the area's historic homes date back to the 1800s. Properties can be found listed from the high $300s, with many eclipsing $900,000 listing prices. Vacant lots can also be found from the mid-$100s to the $300s for those looking to build a home.
Ridgetown Amenities
Ridgetown Howard Community Pool
Watson Park/Mickle Park
Ridgetown Golf and Country Club
University of Guelph - Ridgetown Campus
Tilbury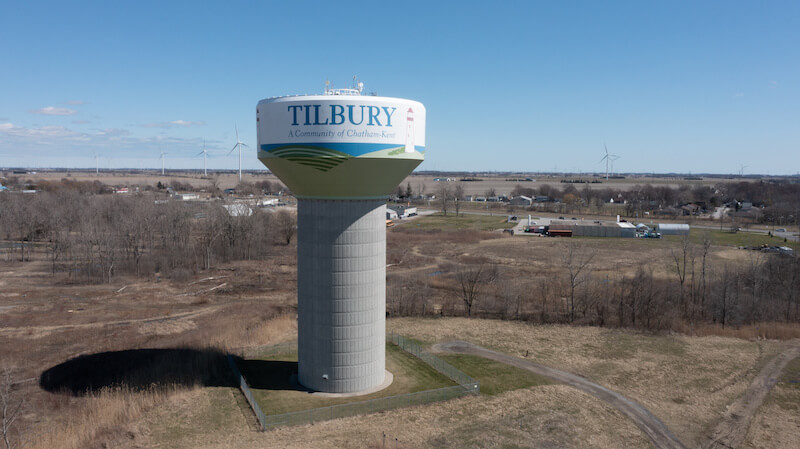 The community of Tilbury calls itself "The Light Between the Lakes," and it's easy to see why with a look at a map. Tilbury is a great place to call home for those who enjoy the beaches, fishing, and other water recreation of Lake St. Clair, less than 15 kilometres north of town, and Lake Erie, just a bit further to the southeast. Travel throughout Ontario is also straightforward from Tilbury, thanks to its location along Highway 401 and Provincial Highway 2. This is important for homebuyers as drive times and public transportation impact home values.
Residents staying closer to home can enjoy a growing shopping and dining district along historic Mill Street, with buildings dating back to the town's late 19th-century roots. The township also offers an indoor skating arena and splash pad for community fun in all seasons.
Tilbury includes a variety of single-family detached homes, from quaint cottages to large, modern new-construction homes. They typically have two to five bedrooms and a similar number of baths. New homes are generally the highest priced, ranging from the high $600s to the mid-$800s. Older homes in Tilbury typically list from the mid-$300s.
Tilbury Amenities
Access to Highway 401, Highway 2
Tilbury Arena
Memorial Park
Northside Park
Merlin
The smallest of our top expensive townships in Chatham-Kent, Merlin doesn't skimp on the natural beauty—or the price tag. Fewer than 1,000 people call the small community of Merlin home. But, while it may be small, residents still have access to everything they need, with numerous local parks, a public school, a library, and a few restaurants and shops like The Garage and Merlin General Store.
Meanwhile, Chatham's dining, nightlife, and culture are just a short drive away. Merlin also offers easy access to Lake Erie, just five kilometres to the south, and Lake St. Clair, approximately 20 kilometres north. Residents can also learn about the area's unique abolitionist history as a northern end of the Underground Railroad at the Buxton National Historic Site and Museum in nearby North Buxton.
Housing in Merlin is split between single-story and two-story detached homes, generally built with three or four bedrooms. Older or more modestly sized properties start in the $300s and can be found upwards of half a million. The highest-end and new-construction homes for sale in Merlin can reach the mid-$600s or more. Homesites close to the town center typically list from around $50,000.
Merlin Amenities
Close to Lake Erie, Lake St. Clair
Merlin Community Hall
The Merlin & Area Kinsmen Park
Merlin Area Public School
Merlin Library
High-End Homes and High Prices in these 5 Chatham-Kent Townships
What was once a farming and manufacturing community has been transformed as more and more would-be buyers see the appeal of the Chatham-Kent area. All of these top townships offer easy access to Lake Erie and Lake St. Clair, charming rural character, and, most importantly, quality, high-end homes. And it doesn't hurt that driving in Chatham-Kent is typically a breeze. Whether future residents prefer the bustling downtown and cultural scene of Chatham or the spacious small-town beauty of Merlin, it's hard to go wrong with any of these expensive Chatham-Kent townships.
If you're dreaming of a home in Chatham-Kent, contact Team Goran of RE/MAX CARE Realty at (519) 979-9949 to get in touch with a Chatham-Kent real estate agent who can help find your perfect place.