Fun Things to Do in Windsor's Little Italy on Erie Street: Restaurants, Shopping & More!
Posted by Goran Todorovic on Wednesday, August 30, 2023 at 2:16:22 PM
By Goran Todorovic / August 30, 2023
Comment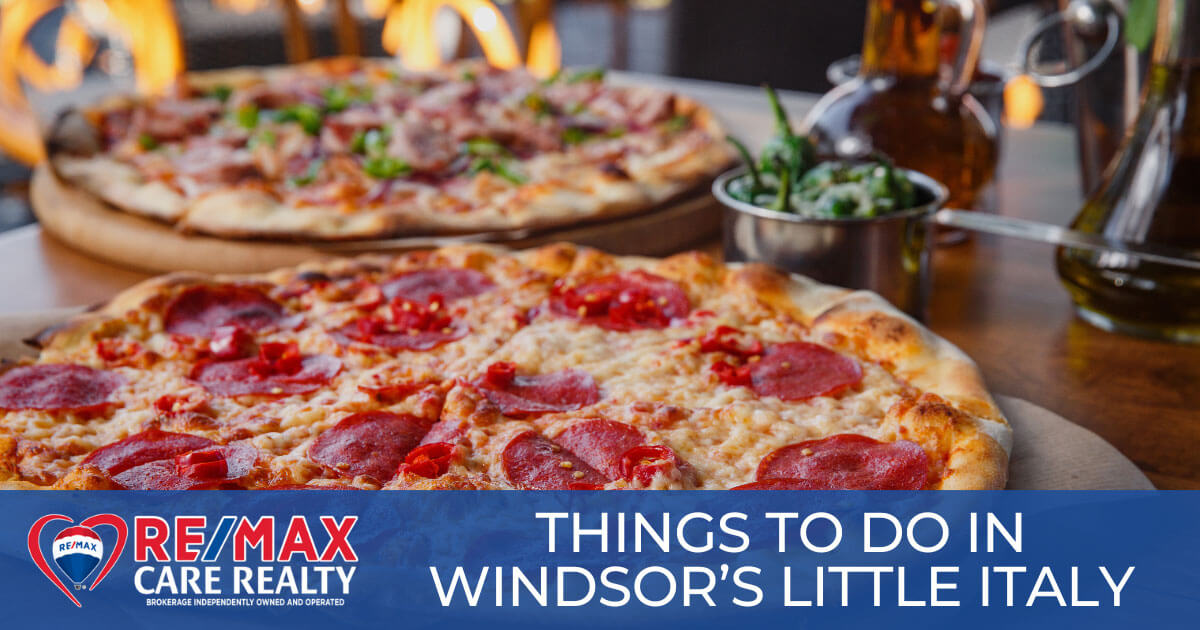 Nestled in the city of Windsor, Little Italy beckons with the alluring aroma of authentic Italian cuisine, the melodious tunes of traditional music, and the vibrant tapestry of culture that paints every corner. As one of Windsor's most iconic neighbourhoods, the Little Italy community offers visitors a tantalizing taste of Italy and an array of experiences that promise memories to last a lifetime. From its bustling shops to its historic landmarks, here's what to expect on a journey through a slice of Europe right in the heart of Windsor, Ontario.
Restaurants in Little Italy
With over one dozen restaurants lining both sides of Erie Street between Howard and Marion avenues, Little Italy is a foodie paradise. From family-style Italian eateries and fine dining to vegan comfort food restaurants and everything in between, there's something to suit every craving and mood. That's right—Little Italy's restaurants go far beyond Italian cuisine!
Spago
Toward the western end of Erie Street at the corner of Louis Avenue, Spago serves a menu heavily focused on shareable dishes, including freshly made pasta, appetizers, and pizzas. In keeping with the tradition of family-style Italian eateries, portions tend to be large at Spago's. Everything is made in-house, from the pasta and pizza dough to sauces. Guests rave about the restaurant's sauces, as well as its warm, attentive service and consistency. Notably, Spago's is known as one of the most affordable restaurants in Little Italy.
Nico Taverna
Nico Taverna is at the far western end of Erie Street, on the southeastern corner of the Howard Avenue intersection. The cozy yet bustling restaurant is open for dinner Tuesday through Saturday. Its menu combines traditional Italian dishes and contemporary items like Fire Grilled Coconut, Smoked Salmon, and Lemon Ricotta Flatbread. Nico is especially popular for celebrations, business trips, and other group outings, as it has several large tables and a buzzy, vibrant ambiance.
Mezzo Ristorante & Lounge
A local favourite, Mezzo has won a Top Choice Award for the Best Italian Restaurant in Windsor for four consecutive years. The restaurant is in the middle of Erie Street and has one of Little Italy's most popular patios. It's also a bit on the dressier side, so Mezzo makes an excellent date night restaurant. Diners rave about the beef tips and stracciatella soup, but there are several unexpected menu items worth trying, like goat cheese and artichoke spring rolls.
Erie St GastroPub
Around the corner from Mezzo, Erie St GastroPub is a local go-to for diners looking for something other than Italian food. The traditional neighbourhood pub features over 50 craft beers in cans and on draft and a food menu catering to Asian fusion dishes. There's also a large selection of vegetarian and vegan options. Don't miss Wine Wednesday and Thirsty Thursday at Erie St GastroPub for discounted wine and beer!
TOAST
TOAST is another Little Italy restaurant offering something different—here, you can get breakfast and lunch Tuesday through Sunday. It's also an excellent spot for a quick cup of coffee. The restaurant has a laid-back, fast-casual environment with prompt service, and it's one of few Erie Street options you can reliably walk into and sit down without reservations.
TOAST's menu features several American and comfort food classics. While the breakfast options lean on the savoury side, there are some sweeter items to choose from, including Nutella French toast.
nooch.
At the corner of Erie Street and Parent Avenue, nooch. is a vegan restaurant that bills itself as "Windsor's first fully vegan comfort food restaurant." The menu features a wide array of comfort food, from tacos made with jackfruit and poutine fries to a Philly cheesesteak and chilli cheese dogs. Nearly everything is made in-house, and even many non-vegan diners enjoy nooch.
Take Five Bistro
Take Five Bistro is a classic steak and chop house serving dinner only at the eastern end of Erie Street. Keeping with tradition, Take Five's vibe is romantic and intimate, with low lighting and tables nicely spaced out. The restaurant's meat and produce are sourced locally, focusing on high-quality, ultra-fresh ingredients.
One particularly unique thing about Take Five Bistro is its Prix Fixe menu. Sunday through Thursday, diners can order a three-course meal with a choice of soup or salad, an entree, and dessert.
Shops & Bakeries on Erie Street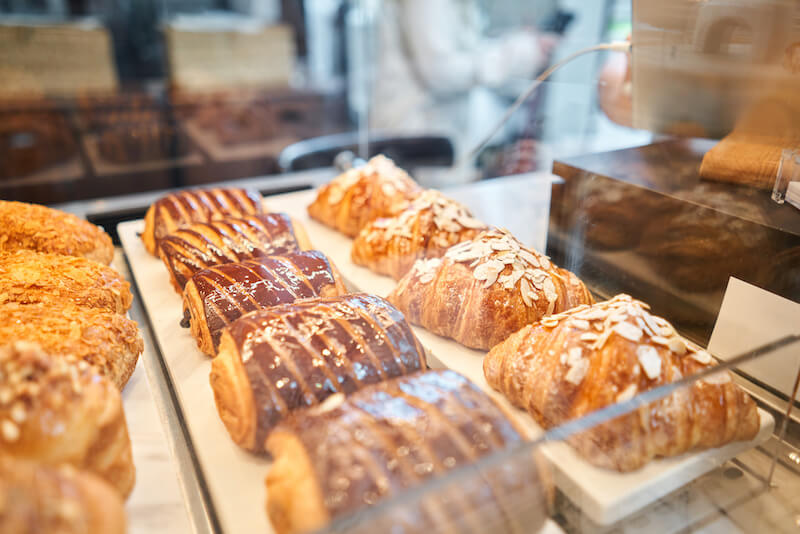 In addition to its restaurants, Little Italy is home to several excellent specialty shops, putting it on par with all the things to do in Downtown Windsor. You could easily spend an entire day strolling Erie Street between eating and shopping, looking for clothing, homewares, gourmet baked goods, and even custom wine you can blend.
Borelli Cellars
On the western edge of Erie Street, Borrelli Cellars takes the "wine shop" to a new level. It started as a small shop selling winemaking supplies, and today, it still sells those supplies, but it's Windsor's go-to for completely custom wine.
Customers choose from over 40 varieties, then ferment and customize their bottles onsite. For example, add fruit to sweeten your wine or oak to mellow and smooth it out. While it ferments for a few weeks, Borrelli's Certified Wine Consultants keep an eye on it. You'll come back when your wine is ready, and you can bottle and label it yourself. This fantastic gift-giving idea makes a great night out for a couple or friend groups.
Gina's European Deli & Gifts
Gina's is a quintessential Italian deli, serving various deli meats and cheeses and a vast array of freshly made pasta, sauces, and olive oils. You'll find every imaginable shape of pasta here and more types of gnocchi and ravioli than you even realized existed! There's even a nice selection of gluten-free and other specialty pastas.
The deli sells handmade, imported European-style cookies and a nicely curated selection of home goods, including pots and pans, plateware, silverware, and specialty cups. Finally, the deli makes sandwiches fresh to order.
LaurAngela Boutique
Right next to nooch. on Erie Street's eastern end, LaurAngela Boutique sells luxury women's clothing and accessories. There are items for every season and occasion, including formal events, winter coats, and swimwear.
The shop's high-end European brands include Monique Lhuillier, Theia, and Didier Parakian. LaurAngela Boutique also has personal shopping consultants, so shoppers get special attention and guidance in finding that perfect item. The boutique has been open in Little Italy for over 20 years and occupies a beautiful historical building.
Mancini's Italia Bakery
Between Nico Taverna and TOAST, Mancini's serves every baked treat imaginable—and then some. Think fresh, made-from-scratch baked bread, gourmet Italian pastries, and pizzas. Regulars especially love the cannoli, tiramisu, and house specialty, custard-filled peaches. You can also buy gelato and a large assortment of deli meats and cheeses, including ordering made-to-order sandwiches. Mancini's also offers a selection of Italian grocery items, such as pasta, sauces, oils, and espresso.
Sweet Revenge Bake Shop
Locals head to Sweet Revenge whenever they need a fancy cake or cupcakes for a special occasion. The shop specializes in elaborate, impeccably decorated cakes that taste just as good as they look.
While Sweet Revenge operates strictly on a pre-order basis and does not keep a takeaway display case, it does maintain an "Available Daily" list online, and customers can call and order with a one-hour lead time. The bakery also makes brownies, gourmet cookies, macarons, and cheesecake.
Carrousel of the Nations
This award-winning, multi-day cultural festival celebrates the unique cultural heritage of Windsor, the town of Essex, and the Leamington community. It's been a beloved local tradition for over 45 years, and best of all, it's a free event!
Nothing like a traditional festival, Carrousel of the Nations takes place in 25 distinct villages across Windsor and Essex County on various weekends each June. Little Italy hosts the Italian Village festival, with food vendors on Restaurant Row, live music performances and street performers, a talent show, art installations, cultural displays, photo ops, and much more. Other special events include an Italian fashion show, an Italian-themed Instagram station, and even an outdoor Mass service.
In addition to the Italian Village, other village festivals that are part of Carrousel of the Nations include a Hungarian Village, a Lebanese Village, a Macedonian Village, a Scottish Village, and an East African Village.
Tour di Via Italia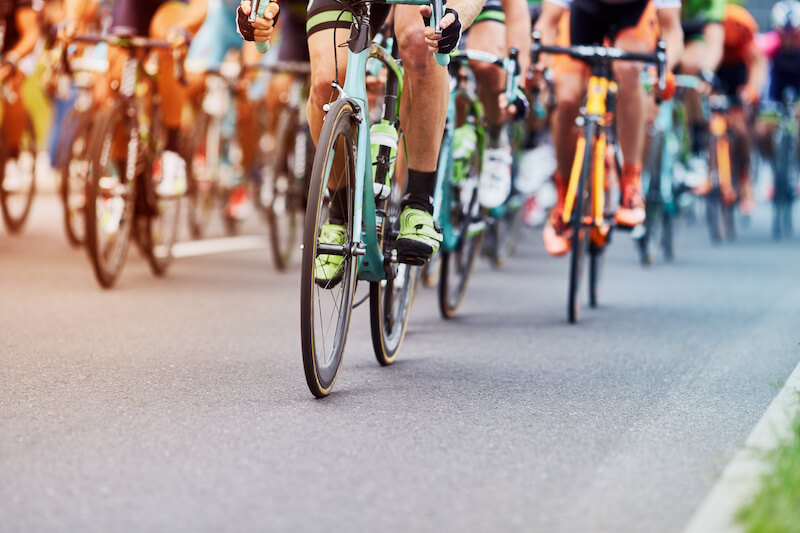 For a different way to experience Little Italy's bustling excitement, consider joining the Tour di Via Italia as a participant or spectator. This 1.7-kilometre road cycling race has been a popular Windsor event for over 60 years, traversing the same stretch of Erie Street for its entire history.
Tour di Via Italia is Ontario's oldest international street race. It's typically held on the Sunday of Labour Day weekend, although a handful of times it's been in August. While it attracts experienced racers worldwide, there are other events for novice cyclists and a kids' fun race.
Joining in the race is a fun, unique way to be part of the Little Italy community, but a large group of spectators watch the race from Erie Street's lively patios. The environment is unmatched, with people lining the streets and sidewalk cafes, cheering racers on as they indulge in a delicious meal or drink.
Discover Windsor's Little Italy
Those moving to Windsor will enjoy Little Italy's many experiences. From its delectable Italian eateries serving mouth-watering delicacies to its unique boutiques and shops, there's a slice of Italian charm at every corner. The neighbourhood's lively atmosphere, punctuated by cultural festivals and events, makes it an unmissable destination for those seeking culinary delights and a taste of Italy's vibrant culture.
If you're looking for your Windsor dream home, contact Team Goran of RE/MAX CARE Realty at (519) 979-9949 to get in touch with a Windsor real estate agent who can help find the perfect place for you.