Toronto vs. Windsor: Why Should You Move from Toronto to Windsor?
Posted by Goran Todorovic on Tuesday, September 26, 2023 at 11:09:39 AM
By Goran Todorovic / September 26, 2023
Comment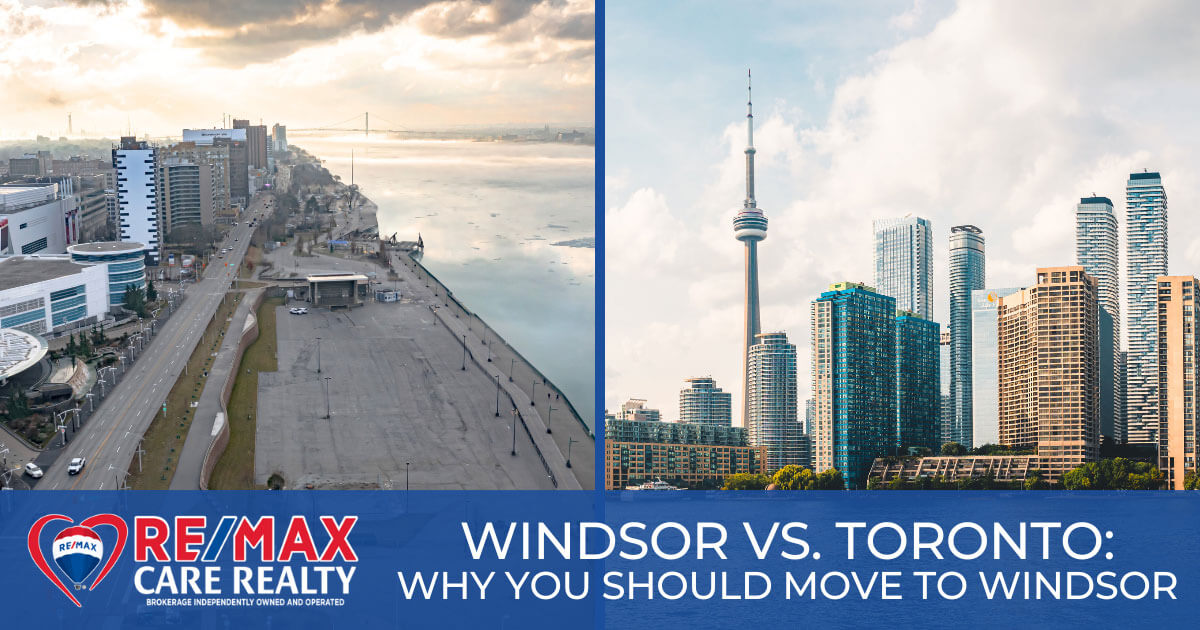 In the ever-evolving landscape of real estate opportunities, individuals seeking a change of scenery are increasingly turning their attention to the city of Windsor, Ontario, as an enticing alternative to the bustling metropolis of Toronto. This article delves into the advantages of moving to Windsor—especially from expensive cities like Toronto—and highlights key aspects of this transition. By exploring the unique offerings of Windsor's real estate market, prospective residents can gain a deeper understanding of why this shift is gaining traction among a diverse range of individuals, making it an appealing prospect for those seeking a change in their living environment.
Toronto vs. Windsor Cost of Living
In general, current Greater Toronto Area (GTA) residents looking for a lower cost of living should consider the Windsor area: the cost of living in Windsor is roughly a third less than in the GTA. The primary driver of this is housing costs, which are far lower in Windsor. That's dramatically less than in Toronto proper, while close-in suburbs like Mississauga, Vaughan, and Brompton offer comparable or even more expensive prices. Property taxes are also lower around Windsor, primarily due to lower home prices.
Getting around is also more affordable in the Windsor region. While gas prices are often comparable or slightly lower in Toronto, the city's extensive traffic often leads to the use of more fuel than in less-congested Windsor. While smaller than Toronto's, Windsor's public transit network will be less expensive for both the occasional rider and the regular commuter. Food is also far more expensive in the Toronto area.
Meanwhile, those dining out or grabbing a drink at the local bar can also save some money in the Windsor region, a factor that's at least partially related to lower rent and ingredient costs, along with lower demand.
Real Estate Market in Windsor vs. Toronto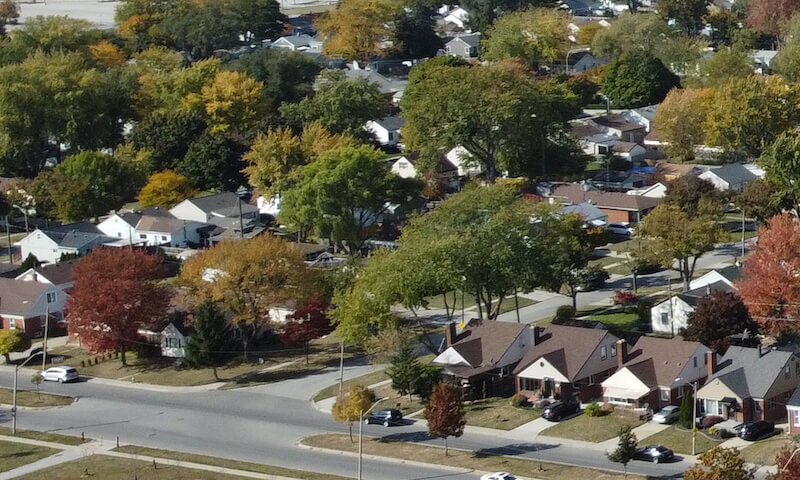 As Windsor and Toronto are both larger cities, each offers various housing choices, from compact and affordable condos in high-, medium-, and low-rise styles to sprawling, high-end detached homes. Toronto's high rises and Windsor's best waterfront neighbourhoods each have their own appeal.
However, Windsor residents have the potential for even more options for different lifestyles than in Toronto, as truly rural outlying areas with expansive acreage are far more convenient to the city core than in Toronto, which is surrounded by dense suburbs for many kilometres. Homebuyers interested in building a custom home will find vacant land in Windsor more plentiful and affordable than in the GTA.
Average sales prices in Windsor and surrounding areas of Essex County are typically in the $500s, or close to $500 per square foot. Condos for sale in Windsor list for a median price in the low $400s, and they're fairly abundant throughout the city. The median listing price for Windsor's luxury homes hovers around $1.2 million.
That's significantly less than Toronto proper, where average prices for a single-household detached house have crossed the million-dollar mark. Additionally, Windsor prices have been fairly consistent, while Toronto prices have been fluctuating greatly. While both sell for close to the list price, Toronto tends to beat list prices by slightly more, a significant factor considering the higher overall prices.
Toronto vs. Windsor Economy & Job Market
It should surprise no one that Toronto has one of Canada's biggest and most varied job markets. However, Windsor is relatively competitive from an economic standpoint, even with its smaller population and area. Toronto's economy has jobs for nearly any skill set but is led by many finance positions at companies like CIBC and Scotiabank, as well as the tech and communications industry with Rogers and Telus.
In contrast, the largest employers in Windsor include automakers like Stellantis and Ford, the Caesars Windsor casino hotel, and a variety of manufacturing and industrial companies. International trade is also a big part of Windsor's economy, due to its close ties with Detroit, just across the river. Healthcare and education are also large and growing industries in the area. Windsor's unemployment rate is also lower compared to Toronto's. Unemployment in the former has also steadily declined, while the latter has seen job gains level off following the recovery from COVID-related losses in 2020.
Despite having more than ten times as many residents, the pace of full-time job creation in Toronto remains similar to Windsor. Though salaries are higher in Toronto, Windsor's cost of living makes up for much of the difference.
Driving & Commuting in Windsor vs. Toronto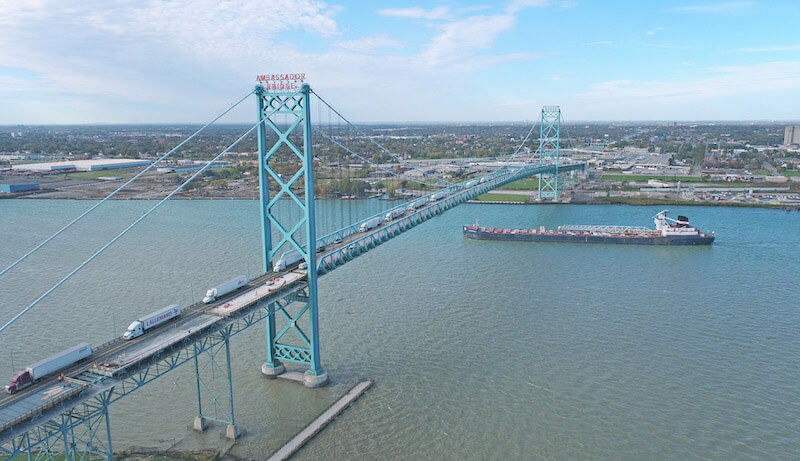 Driving and commuting in Windsor is typically easier and faster than in the GTA. Nearly 90% of Windsorites get around via car, using convenient roads like the EC Row Expressway, Highways 3 and 401, and Riverside Drive. Of these, less than 15 percent of Windsor residents spend more than 30 minutes commuting to and from work. Even trips from outlying towns like Lakeshore, Kingsville, and Amherstburg are convenient, thanks to the area's comparably low population density.
In contrast, Toronto is among the most congested cities in North America for drivers, with residents losing more than 100 hours per year stuck in traffic. Public transportation on TTC buses and subways is the same, with the nearly hour-long average transit commute ranking among the continent's worst. While Toronto has one of the nation's largest and widest-ranging public transit networks, including 24-hour-a-day service, Windsor offers its own system, Transit Windsor. It operates bus routes around the city, the immediate surrounding area, and across the border to Detroit, typically from the early morning to around midnight.
Toronto vs. Windsor Things to Do
To be sure, those living in the Toronto area will never run out of things to do. The country's biggest city offers extensive attractions for nearly every taste. Numerous museums like the Royal Ontario Museum, Art Gallery of Toronto, and other cultural spots complement gorgeous outdoor spaces like High Park, Kew Gardens, and Toronto Island Park. In addition, Toronto residents have access to an incredible variety of top restaurants and international cuisine, alongside exciting nightlife.
Still, there's a wide selection of things to do in and around Windsor that should rarely leave residents wondering how to spend their free time if they know where to look. Outdoor activities in Windsor are centered around the Riverside neighbourhood, home to numerous city parks offering gorgeous views and green space for various activities or simply relaxing. There's always an abundance of fun things to do in Windsor's Little Italy, and the city also provides numerous educational and cultural options, like museums and a delightful local shopping and dining scene. Residents can even try their luck at Caesars Windsor, one of the country's largest casinos. In addition, the attractions of Detroit are just a few minutes away across the border, including pro hockey, football, basketball, baseball, and soccer games.
Embrace the Winds of Change With Windsor
The allure of Windsor, Ontario, as a destination for those seeking a fresh start in their living arrangements, transcends specific demographics. The advantages of relocating from Toronto to Windsor, as illuminated in this article, include affordable real estate options, a rich cultural tapestry, and a burgeoning job market. Activity-filled Downtown Windsor beckons with its unique charm, promising a new chapter in life for those looking to explore a different pace and lifestyle in the heart of southwestern Ontario.
If you're looking for your Windsor dream home, contact Team Goran of RE/MAX CARE Realty at (519) 979-9949 to get in touch with a Windsor real estate agent who can help find the perfect place for you.